Have a suggestion or correction? Go to the Swtorista Website Discord and post your report in the #armor channel. You will need to make a free Discord account.
Similar Armor Sets
These armors have a very similar shape to the Laminoid Battle armor set.
Forest Scout
Outrider's Flight Jacket
Cunning Vigilante
Nova Blade Gunner
Crafting Armormech Schematics Armors
These armors are obtained in similar ways.
Agent
Drelliad
Fortified Lacqerous
Gunslinger
Gunslinger Elite
Hardweave
Hooligan
Lacqerous Battle
Laminoid Battle
Plasteel Battle
Polyplast Battle
Polyplast Ultramesh
Rugged Smuggling
Sniper
Sniper Elite
Fortified Lacqerous
Lacqerous Battle
Plasteel Battle
Polyplast Battle
Polyplast Ultramesh
Chanlon Onslaught
Commando
Commando Elite
Diatium Onslaught
Electrum Onslaught
Hydraulic Press
Lacqerous Mesh
Mercenary
Mercenary Elite
Phobium Onslaught
Professional
Republic Trooper
Tempered Laminoid
Vagabond
Chanlon Onslaught
Diatium Onslaught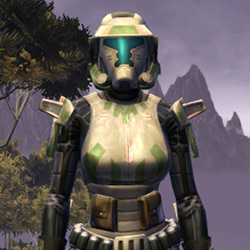 Electrum Onslaught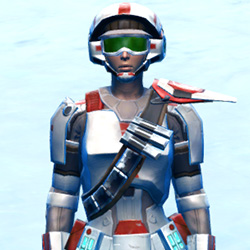 Lacqerous Mesh
Phobium Onslaught
Tempered Laminoid
Hardened Plastifold
Spec Ops
Outcast
More Smuggler Armors
Freelance Hunter
Ballistic Concentration
Interstellar Privateer
Theron Shan's
Thyrsian Fitted (Dyeable)
Voltaic Sleuth
Alde Statesman's
War-Forged MK-2 (Armormech)
Tatooinian Smuggler
Trailblazer's
Smuggler's Exalted
Sly Operator's
More Smuggler Armors
More Light Jacket Armors
Mira's
Hadrium Onslaught
Daring Rogue's
Theron Shan's
Artifact Seeker's
Battle-Hardened Apprentice's
Hoth Ranger's
Remnant Yavin Agent
Frasium Onslaught
Remnant Arkanian Agent
Remnant Dreadguard Smuggler
Classic Phantom
More Light Jacket Armors
More Red Armors
Tarisian Warrior
Eternal Battler Boltblaster
Interceptor
War Hero Survivor (Rated)
Republic Protector's
Balmorran Smuggler
Eradicator's Mask
Investigator's
Vrook Lamar's
War Hero Stalker (Rated)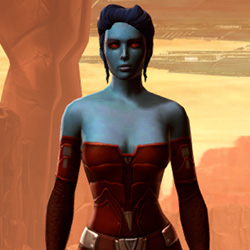 Sensuous Dress
Pilot
More Red Armors
More Blue Armors
Ballistic Concentration
War-Forged MK-2 (Synthweaving)
War Hero Combat Tech
War Hero Survivor
Exquisite Formal
Endless Offensive
Space Guardian
Guardian's Exalted
Xonolite Asylum
Cyber Agent
RD-07A Viper
Empowered Restorer
More Blue Armors
More Light Pants Armors
Terenthium Onslaught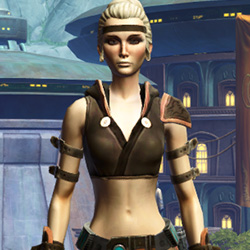 Shadowsilk Aegis
Exquisite Formal
Tythian Disciple's
Arctic Scout's
Eternal Commander MK-3 Force-Mystic
Series 510 Cybernetic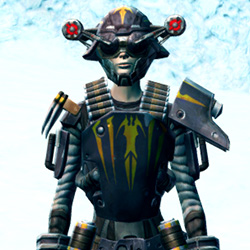 Frontline Mercenary
Marauder
Reinforced Chanlon
Sand People Bloodguard
Shrewd Rascal's
More Light Pants Armors
Outfit Database ID: 1444 - Added: 0000-00-00 00:00:00 - Opposite: 1435 - Identical: 0 - Similar: 1595