Have a suggestion or correction? A volunteer can help update the website! To report an issue, go to the Swtorista Website Discord and post your report as a single message in the #report-issue channel. You will need to make a free Discord account.
Similar Armor Sets
These armors have a very similar shape to the Righteous Mystic armor set.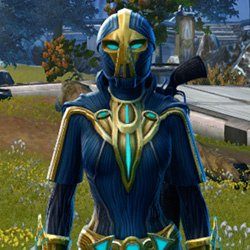 Righteous Harbinger
Righteous Enforcer
Dread Enforcer
Dread Harbinger
Dread Mystic
Aggressive Treatment
Dark Vs Light Armors
These armors are obtained in similar ways.
Light Devotee
Dark Disciple
Light Devotee No Hood
More Jedi Consular Armors
Ceremonial
Voss Dignitary
Relnex's
Remnant Dreadguard Knight
Tund Sorcerer's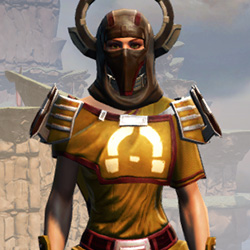 War Hero Force-Mystic (Rated)
Force Pilgrim
Remnant Yavin Knight
Alliance Emissary's
Satele Shan's
Citadel Bulwark
Citadel Duelist
More Jedi Consular Armors
More Animated Armors
Mandalorian Stormbringer
Energized Infantry
Dashing Rogue
Voltaic Vandal
Port Nowhere Mobster's
Escape Artists
Energetic Champion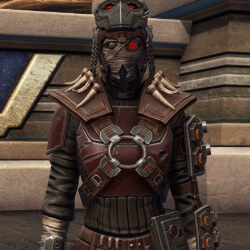 Furious Gladiator
Galvanized Infantry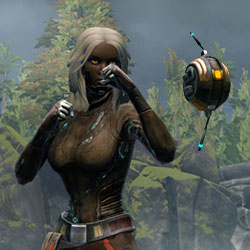 Battleworn Engineer's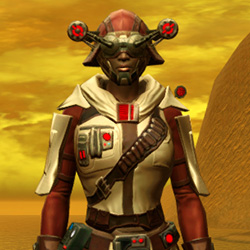 Galvanized Manhunter
Series 512 Cybernetic
More Animated Armors
More Leg Wraps Armors
War Hero Force-Master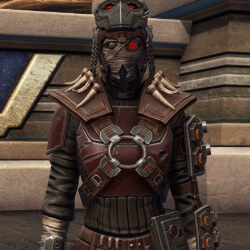 Furious Gladiator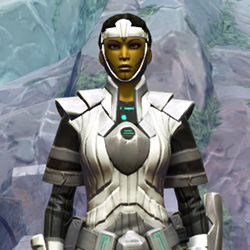 Zakuulan Preserver's
Orbalisk
Martial Pilgrim's Amor Set
Hydraulic Press
Malak's Shadow
Chanlon Onslaught
Reinforced Chanlon
Darth Malgus's
Hunter Killer
Dramassian Aegis
More Leg Wraps Armors
More Blue Armors
Voss Ambassador
Force Apprentice's
Amended Mystic's
Eternal Brawler Duelist's
Gunslinger
Discharged Infantry
Mercenary Elite
Soulbenders
War-Forged MK-0 (Synthweaving)
Ulic Qel-Droma's
Xonolite Asylum
Polyplast Ultramesh
More Blue Armors
More Yellow Armors
Balmorran Arms Corporate Shirt
Redeemer's Harness
Badlands Explorer
Gold Scalene
War Hero Vindicator (Rated)
Stylish Dancer's
Outlander Guerrilla's
Casual Combatant
Experimental Ossan Combat Medic's
Cassus Fett's
Ciridium Onslaught
Series 808 Cybernetic Armor
More Yellow Armors
More Light Pants Armors
Battlemaster Field Medic
Columi Field Medic (Rep)
Eternal Commander MK-15 Survivor
Rakata Combat Medic (Rep)
Eternal Commander MK-15 Weaponmaster
Tythian Disciple's
Eternal Conqueror Pummeler
Basic, Trooper
Bold Hellion's
Eternal Brawler Pummeler's
Exiled Revolutionary's
Precise Targeter
More Light Pants Armors
Outfit Database ID: 1564 - Added: 2018-10-26 11:12:43 - Opposite: 0 - Identical: 0 - Similar: 1564
Like this

guide?Pledge to support Swtorista videos, guides and lists!
✚ Support with Patreon
✚ Support with YouTube
✚ Support with Twitch
In return, get:
Discord Chat
50+ Lore Audio Readings
Ensure future of guides!