Have a suggestion or correction? Go to the Swtorista Website Discord and post your report in the #armor channel. You will need to make a free Discord account.
Similar Armor Sets
These armors have a very similar shape to the Chanlon Onslaught armor set.
Phobium Onslaught
Tempered Laminoid
Xonolite Asylum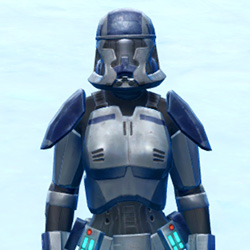 Titanium Asylum
Crafting Armormech Schematics Armors
These armors are obtained in similar ways.
Agent
Drelliad
Fortified Lacqerous
Gunslinger
Gunslinger Elite
Hardweave
Hooligan
Lacqerous Battle
Laminoid Battle
Plasteel Battle
Polyplast Battle
Polyplast Ultramesh
Rugged Smuggling
Sniper
Sniper Elite
Fortified Lacqerous
Lacqerous Battle
Laminoid Battle
Plasteel Battle
Polyplast Battle
Polyplast Ultramesh
Chanlon Onslaught
Commando
Commando Elite
Diatium Onslaught
Electrum Onslaught
Hydraulic Press
Lacqerous Mesh
Mercenary
Mercenary Elite
Phobium Onslaught
Professional
Republic Trooper
Tempered Laminoid
Vagabond
Diatium Onslaught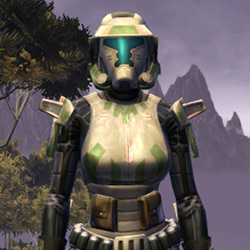 Electrum Onslaught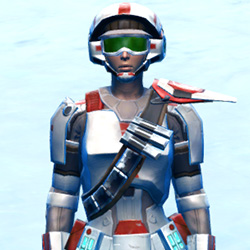 Lacqerous Mesh
Hardened Plastifold
Spec Ops
Outcast
More Trooper Armors
Tarisian Trooper
Makeb Assault
Terenthium Asylum
Madilon Asylum
Battlemaster Combat Medic
Section Guardian
Ciridium Asylum
Czerka Security
Dark Legionnaire's
Eternal Battler Med-Tech
MA-44 Combat
Umbaran Guardian
More Trooper Armors
More Plated Leg Armor Armors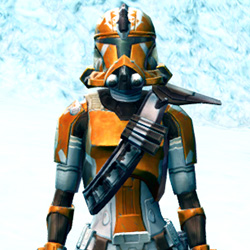 Veteran Infantry
Voss Trooper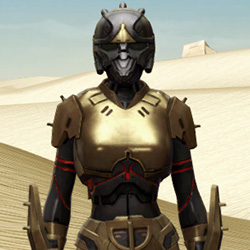 Eidolon's
War Hero Combat Medic
Remnant Resurrected Knight
RD-17A Hellfire
Outlander Guerrilla's
Hyperspace Hotshot
Frogdog Huttball Away Uniform
Force Bound
Battlemaster Combat Medic
Energized Infantry
More Plated Leg Armor Armors
More White Armors
Overwatch Shield
Imperial Field Agent's
Consular Adept
Stalker's
Eternal Commander MK-15 Vindicator
Eternal Conqueror Duelist
Classic Spymaster's Auxiliary
Corellian Consular
Hoth Trooper
Eternal Commander MK-15 Survivor
Belsavis Knight
Enigmatic Operative's
More White Armors
Outfit Database ID: 1462 - Added: 0000-00-00 00:00:00 - Opposite: 1448 - Identical: 0 - Similar: 1467