Similar Armor Sets
These armors have a very similar shape to the Dread Mystic armor set.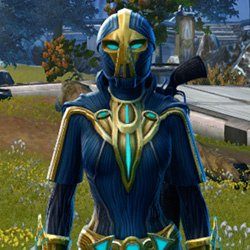 Righteous Harbinger
Righteous Mystic
Righteous Enforcer
Dread Enforcer
Dread Harbinger
Aggressive Treatment
Dark Vs Light Armors
These armors are obtained in similar ways.
Light Devotee
Dark Disciple
Light Devotee No Hood
More Sith Inquisitor Armors
Inquisitor's Exalted
War Hero Force-Master (Rated)
Traditional Thermoweave
Herald of Zildrog
Controller
Dark Seeker's
Calculated Mercenary's
Fallen Defender's
Supreme Inquisitor
Anointed Zeyd-Cloth
Gathering Storm
Anointed Demicot
More Sith Inquisitor Armors
More Animated Armors
Escape Artists
Hazardous Physician
Cyber Agent
Series 505 Cybernetic
Tythian Disciple's
Dynamic Brawler's
Agile Sentinel's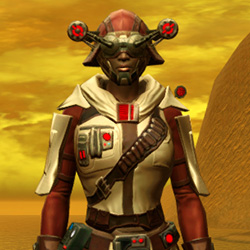 Galvanized Manhunter
Potent Combatant
Series 512 Cybernetic
Energetic Combatant
Cyber Agent Cloaked
More Animated Armors
More Leg Wraps Armors
Cutthroat Buccaneer
Sith Recluse
Orbalisk
Smuggler's Exalted
Debilitator
Remnant Dreadguard Inquisitor
Malak's Shadow
Subversive
Bolted (Imperial)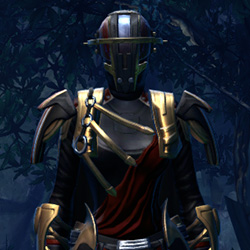 Revanite Avenger
Dashing Blademaster
War Hero Force-Mystic
More Leg Wraps Armors
More Red Armors
Port Nowhere Mobster's
Exarch Asylum MK-26 (Synthweaving)
Remnant Resurrected Trooper
Shadowsilk Aegis
Reveler's Finery
CZ-18X Avalanche Chestplate
Tactician
Thul Loyalist's
Revanite Pursuer
Red Scalene
Escape Artists
Eternal Battler Force-Healer
More Red Armors
More Light Pants Armors
Established Foothold
Shrewd Privateer
The Slow Road
Arctic Scout's
Rim Runner
Ruthless Oppressor
Force Disciple's
Civilian Pilot
Ulgo Loyalist
Overwatch Shield
Rist Statesman's
Remulus Dreypa's
More Light Pants Armors
Outfit Database ID: 1570 - Added: 2018-10-26 11:29:32 - Opposite: 0 - Identical: 0 - Similar: 1564
Like this

guide?Pledge to support Swtorista videos, guides and lists!
✚ Support with Patreon
✚ Support with YouTube
✚ Support with Twitch
In return, get:
Discord Chat
50+ Lore Readings
Ensure future of guides!
✚ Support with Merch
Sci-fi & Fantasy inspired pins
Real-life collector items
Beautiful, check!