Have a suggestion or correction? A volunteer can help update the website! To report an issue, go to the Swtorista Website Discord and post your report as a single message in the #report-issue channel. You will need to make a free Discord account.
Similar Armor Sets
These armors have a very similar shape to the Interstellar Privateer armor set.
RD-07A Spider
Terenthium Onslaught
More Smuggler Armors
Battlemaster Enforcer
Eternal Commander MK-3 Field Medic
Repositioning
War Hero Field Tech
Iokath MK-5 Eliminator
Eternal Conqueror Targeter
The Final Breath
Eternal Brawler Mender's
Je'daii Warrior (Hood Up)
Mullinine Onslaught
Outer Rim Gunslinger's
Concealed Bodysuit
More Smuggler Armors
More Light Jacket Armors
Resourceful Engineer's
Drelliad
Outrider's Flight Jacket
Republic Trooper
Guerrilla Tactician's
Death Claw
Hoth Ranger's
Duststorm Survivor's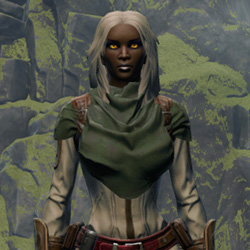 Zayne Carrick's
Shrewd Rascal's
Theron Shan's
Battle-Hardened Apprentice's
More Light Jacket Armors
More Black Armors
Empowered Restorer
Mullinine Onslaught
Lashaa Aegis
Saber Marshal
Battle-Hardened Apprentice's
Tactical Ranger
War Hero Force-Master
Remnant Resurrected Bounty Hunter
Calculated Mercenary's
Relaxed Jumpsuit
Terenthium Onslaught
Probe Tech
More Black Armors
Outfit Database ID: 975 - Added: 0000-00-00 00:00:00 - Opposite: 0 - Identical: 0 - Similar: 1350
Like this

guide?Pledge to support Swtorista videos, guides and lists!
✚ Support with Patreon
✚ Support with YouTube
✚ Support with Twitch
In return, get:
Discord Chat
50+ Lore Audio Readings
Ensure future of guides!