Have a suggestion or correction? A volunteer can help update the website! To report an issue, go to the Swtorista Website Discord and post your report as a single message in the #report-issue channel. You will need to make a free Discord account.
Similar Armor Sets
These armors have a very similar shape to the Balmorran Resistance armor set.
Sith Dueling
Hardweave
Social Armors
These armors are obtained in similar ways.
Hailstorm Brotherhood
Slave Girl
Formal
Prisoner
Voss Mystic
Death Claw
Elegant
Sand People
CorSec
Ulgo Noble
Hutt Cartel
More Environment Armors
K-23 Hazmat
Kuat Drive Yards Corporate
Scrublander's
Rugged Infantry
Contraband Runner
Duststorm Survivor's
Mythran
Mantellian Separatist
THORN Dark Vector (Green)
Combat Engineer's
Ubrikkian Industries Corporate
Relic Plunderer's
More Environment Armors
More Light Jacket Armors
Outrider's Flight Jacket
Hoth Ranger's
Commando
Resistance Fighter's
Theron Shan's
Daring Rogue's
Mira's
Trailblazer's
Remnant Resurrected Smuggler
Terenthium Onslaught
Plasteel Battle
Laminoid Battle
More Light Jacket Armors
More Brown Armors
Battlemaster Enforcer
Eternal Commander MK-3 Enforcer
Armored Diplomat
Fearless Hunter's
Rebuking Assault
Omenbringer
Sanctified Caretaker
Defiant Onslaught MK-26 (Armormech) (Republic)
Citadel Duelist
Honored Saberist's Harness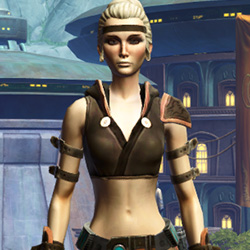 Shadowsilk Aegis
Knight's Crusade
More Brown Armors
More Light Pants Armors
CZ-27K Stealth Ops Suit
War Hero Force-Mystic
Star Forager
Relnex's
Overwatch Sentry
Resistance Fighter's
Battlemaster Field Medic
Defiant Mender MK-16 (Synthweaving)
War Hero Combat Medic (Rep)
Battlemaster Field Tech
Vandinite Onslaught
Polar Exploration
More Light Pants Armors
Outfit Database ID: 37 - Added: 0000-00-00 00:00:00 - Opposite: 0 - Identical: 0 - Similar: 1396
Like this

guide?Pledge to support Swtorista videos, guides and lists!
✚ Support with Patreon
✚ Support with YouTube
✚ Support with Twitch
In return, get:
Discord Chat
50+ Lore Audio Readings
Ensure future of guides!