Have a suggestion or correction? Go to the Swtorista Website Discord and post your report in the #armor channel. You will need to make a free Discord account.
Similar Armor Sets
These armors have a very similar shape to the Lacqerous Mesh armor set.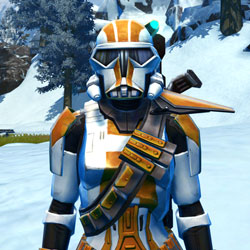 TD-17A Colossus
Trooper's Exalted
Stalwart Protector
Energized Infantry
Galvanized Infantry
Ironclad Soldier
Tactical Infantry
Diatium Onslaught
Ciridium Asylum
Crafting Armormech Schematics Armors
These armors are obtained in similar ways.
Agent
Drelliad
Fortified Lacqerous
Gunslinger
Gunslinger Elite
Hardweave
Hooligan
Lacqerous Battle
Laminoid Battle
Plasteel Battle
Polyplast Battle
Polyplast Ultramesh
Rugged Smuggling
Sniper
Sniper Elite
Fortified Lacqerous
Lacqerous Battle
Laminoid Battle
Plasteel Battle
Polyplast Battle
Polyplast Ultramesh
Chanlon Onslaught
Commando
Commando Elite
Diatium Onslaught
Electrum Onslaught
Hydraulic Press
Lacqerous Mesh
Mercenary
Mercenary Elite
Phobium Onslaught
Professional
Republic Trooper
Tempered Laminoid
Vagabond
Chanlon Onslaught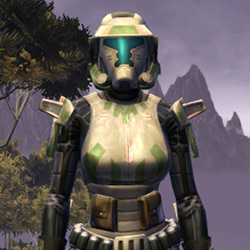 Electrum Onslaught
Phobium Onslaught
Tempered Laminoid
Hardened Plastifold
Spec Ops
Outcast
More Trooper Armors
Republic Containment Officer
Remnant Underworld Trooper
Hoth Trooper
Columi Demolisher (Republic)
Trimantium Asylum
Defiant Asylum MK-16 (Armormech)
Citadel Demolisher
Citadel Med-tech
War Hero Combat Medic (Rated)
War Hero Eliminator
Recon Trooper
Frontline Scourge
More Trooper Armors
More Plated Leg Armor Armors
Unbreakable Veteran's
War Hero Combat Medic
Blade Savant
Battlemaster Combat Medic
Eternal Conqueror Demolisher
Unburdened Champion
Frasium Asylum
KDY Shipwright's
Ardent Warden
Hypercloth Force Expert's
Remnant Resurrected Trooper
Battlemaster Eliminator
More Plated Leg Armor Armors
More Goggles Armors
Guardian's Exalted
Hoth Smuggler
Duststorm Survivor's
Outlaw's
Czerka Security
Remnant Arkanian Smuggler
Intelligence Officer
Port Nowhere Mobster's
Interceptor
Remnant Yavin Smuggler
Imperial Field Agent's
Lone-Wolf
More Goggles Armors
More Red Armors
Belsavis Agent
Armored Interrogator
Dire Retaliation
Fallen Defender's
Savage Despot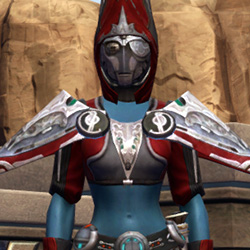 Rakata Force-Lord (Imperial)
Shadowsilk Aegis
Eternal Battler Mender
Esne Fanatic's
Nar Shaddaa Warrior
Dreamsilk Aegis Vestments
War Hero Eliminator (Rated)
More Red Armors
Outfit Database ID: 1465 - Added: 0000-00-00 00:00:00 - Opposite: 1454 - Identical: 2098 - Similar: 641