Have a suggestion or correction? A volunteer can help update the website! To report an issue, go to the Swtorista Website Discord and post your report as a single message in the #report-issue channel. You will need to make a free Discord account.
Similar Armor Sets
These armors have a very similar shape to the Devout Overseer armor set.
Ablative Plasteel
Reinforced Chanlon
Galactic Command Tier 1 Armors
These armors are obtained in similar ways.
Vicious Adept
Underworld Enforcer
Ruthless Challenger
Recon Spotter
Mandalorian Enforcer
Force Herald
Disciplined Conscript
More Jedi Knight Armors
Battlemaster Weaponmaster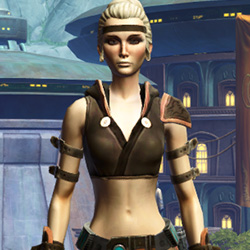 Shadowsilk Aegis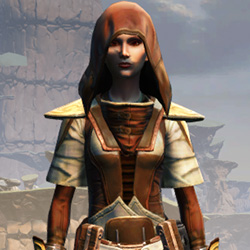 Sentinel's Exalted
Peacekeeper
Peacekeeper Elite
Septsilk Aegis
Je'daii Warrior (Hood Up)
Eternal Conqueror Bulwark
Eternal Brawler Bulwark's
Jolee Bindo's
Blade Master
Elegant Duelist's
More Jedi Knight Armors
More Jedi Consular Armors
Ablative Lacqerous
Jedi Survivalist's
Tribal Hermit
Stately Dress
Exarch Mender MK-26 (Synthweaving)
Anointed Zeyd-Cloth
Light Devotee
Shasa Adherent's
Ajunta Pall's
Thexan's
Gifted Wanderer's
Remnant Yavin Knight
More Jedi Consular Armors
More Brown Armors
Pathfinder's
Cybernetic Pauldron
Tribal Hermit
Black Vulkar Swooper
Street Slicer's Longcoat
Bastila Shan's
Potent Champion
Avenger
Rune Seeker's
Drelliad
Eternal Commander MK-3 Warleader
Dashing Hero's
More Brown Armors
Outfit Database ID: 1591 - Added: 2018-12-08 22:17:30 - Opposite: 0 - Identical: 0 - Similar: 1424
Like this

guide?Pledge to support Swtorista videos, guides and lists!
✚ Support with Patreon
✚ Support with YouTube
✚ Support with Twitch
In return, get:
Discord Chat
50+ Lore Audio Readings
Ensure future of guides!