Similar Armor Sets
These armors have a very similar shape to the Majestic Augur armor set.
Ceremonial
Matriarchal
Ottegan Force Expert
Galactic Command Crate Tier 4 Armors
These armors are obtained in similar ways.
Ardent Warden
Deadeye
Devious Outlaw
Frenzied Instigator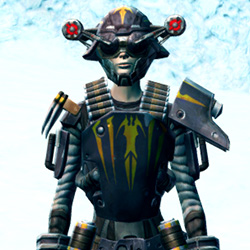 Frontline Mercenary
Hazardous Recon
Omniscient Master
More Jedi Consular Armors
Traveler (Republic)
Omenbringer
Voidmaster
Kreia's
Defiant Mender MK-26 (Synthweaving) (Imperial)
Citadel Bulwark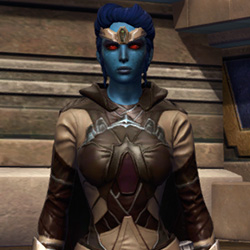 The Entertainer
Exarch Onslaught MK-26 (Armormech)
Ablative Lacqerous
Remnant Underworld Knight (Hoodless)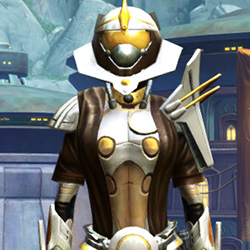 Charged Hypercloth Force Expert's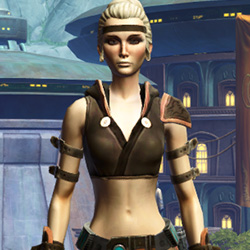 Shadowsilk Aegis
More Jedi Consular Armors
More Formal Armors
Noble Councillor's
Alliance Emissary's
Regal Apparel
Wicked Huntress's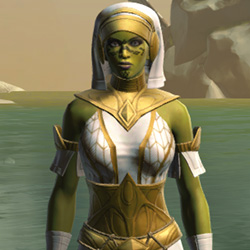 Resort Swimwear (no cape)
Exquisite Formal
Stylish Dress
Karness Muur's
Ulgo Noble
Emperor's Mantle
Genteel Clothing Set
Elegant
More Formal Armors
More Fancy Hat Armors
Acolyte
Nimble Master
Luxurious Dress
Revered Seer's
Traditional Thermoweave
Patient Defender (no hood)
Charged Peacemaker
Stately Diplomat
Rist Statesman's
Force Herald
Rodian Flame Force Expert
Cunning Statesman's
More Fancy Hat Armors
More Yellow Armors
Outlaw's
Classic Preceptor's
War Hero Enforcer
War Hero War Leader (Rated)
Mantellian Separatist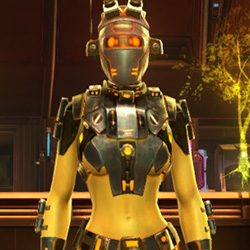 Ventilated Scalene
Frogdog Huttball Home Uniform
Frogdog Huttball Away Uniform
Defiant Asylum MK-16 (Synthweaving)
Powered Exoguard
Ciridium Onslaught
Diatium Onslaught
More Yellow Armors
More Brown Armors
Citadel Duelist
Efficient Termination
Exiled Padawan
Dramassian Force Expert's
Exiled Knight's
Sand People Pillager
Eternal Commander MK-3 Combat Tech
Jolee Bindo's
Eternal Commander MK-15 Survivor
Trimantium Jacket
Eternal Battler Pummeler
Shadowsilk Force Expert's
More Brown Armors
Outfit Database ID: 1615 - Added: 0000-00-00 00:00:00 - Opposite: 0 - Identical: 0 - Similar: 807
Like this

guide?Pledge to support Swtorista videos, guides and lists!
✚ Support with Patreon
✚ Support with YouTube
✚ Support with Twitch
In return, get:
Discord Chat
50+ Lore Readings
Ensure future of guides!
✚ Support with Merch
Sci-fi & Fantasy inspired pins
Real-life collector items
Beautiful, check!