Have a suggestion or correction? Go to the Swtorista Website Discord and post your report in the #armor channel. You will need to make a free Discord account.
Similar Armor Sets
These armors have a very similar shape to the Venerated Mystic armor set.
Anointed Demicot
Tech Fragments Armors
These armors are obtained in similar ways.
Vicious Adept
Underworld Enforcer
Ruthless Challenger
Recon Spotter
Mandalorian Enforcer
Force Herald
Disciplined Conscript
Devout Overseer
Agile Sharpshooter
Concealed Hunter
Cunning Vigilante
Dark Praetorian
Savage Despot
Stately Diplomat
Unbreakable Defender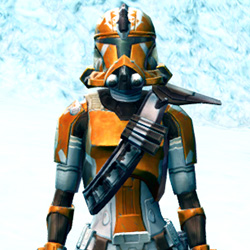 Veteran Infantry
Brutal Executioner
Force Champion
Lone-Wolf
Rim Runner
Ruthless Commander
Shrewd Privateer
Tribal Hermit
Ardent Warden
Deadeye
Devious Outlaw
Frenzied Instigator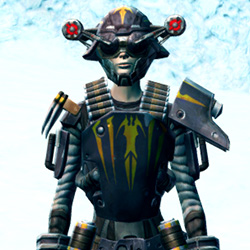 Frontline Mercenary
Hazardous Recon
Majestic Augur
Omniscient Master
More Sith Inquisitor Armors
Alderaanian Inquisitor
Corellian Inquisitor
Septsilk Force Expert's
Lashaa Aegis
Debilitator
Traditional Thermoweave
Vine-silk Aegis
War Hero Stalker (Rated)
Darth Sion's
Feral Visionary
Inquisitor's Exalted
Defiant Mender MK-26 (Synthweaving) (Republic)
More Sith Inquisitor Armors
More Fancy Hat Armors
Ottegan Force Expert
Noble Commander's
Revered Seer's
Elite Tactician
Casual Connoisseur's
Imperial Advisor's
Remnant Dreadguard Consular
Marka Ragnos's
Saava Force Expert
Rakata Force-Lord (Republic)
Rodian Flame Force Expert
Overloaded Peacemaker
More Fancy Hat Armors
More Unique Hat Armors
Formal
Nimble Master
Regal Apparel
Polyplast Battle
Battlemaster Field Tech
War-Forged MK-0 (Synthweaving)
War-Forged MK-0 (Armormech)
Tactician
Confiscated Mercenary
Elegant Dress
Red Blade's
Unshakable Trooper's
More Unique Hat Armors
More Sith Inquisitor Best Outfits Armors
Hallowed Gothic
Ceremonial Mystic's
XoXaan's
Marka Ragnos's
Sovereign Executioner
Malevolent Interrogator
Callous Conqueror
Inquisitor's Exalted
Dramassian Force Expert's
Acolyte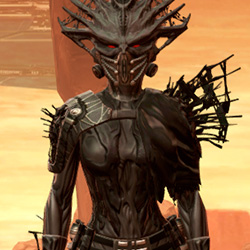 Charged Hypercloth Force Expert's
Traditional Brocart
More Sith Inquisitor Best Outfits Armors
More Red Armors
Victorious Infiltrator
Thul Loyalist's
Spymaster's Auxiliary
Marauder's Renowned
Ravager's
Dread Enforcer
Fortified Electrum
Crimson Raider's
Escape Artists
Voltaic Sleuth
Frenzied Zealot
Dreadseed
More Red Armors
More Purple Armors
Tarisian Inquisitor
Matriarchal
Anointed Zeyd-Cloth
Overloaded Interrogator
Imperial Advisor's
Kaas Warrior
Midnight Racer's
Rotworm Practice Jersey
Feast Trader
Xonolite Onslaught
Hallowed Gothic
Decelerator
More Purple Armors
Outfit Database ID: 1608 - Added: 0000-00-00 00:00:00 - Opposite: 0 - Identical: 0 - Similar: 1608