Have a suggestion or correction? A volunteer can help update the website! To report an issue, go to the Swtorista Website Discord and post your report as a single message in the #report-issue channel. You will need to make a free Discord account.
Similar Armor Sets
These armors have a very similar shape to the Frenzied Instigator armor set.
Enhanced Assailant's
Veda Force Expert's
Galactic Command Crate Tier 4 Armors
These armors are obtained in similar ways.
Ardent Warden
Deadeye
Devious Outlaw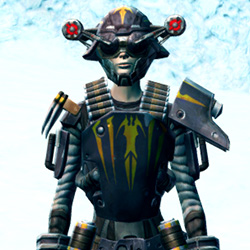 Frontline Mercenary
Hazardous Recon
Majestic Augur
Omniscient Master
More Sith Warrior Armors
Exarch Asylum MK-26 (Armormech)
Ruthless Challenger
Fearsome Harbinger
Sith Cultist's
Exar Kun's
Imperial Bastion's
Sith Archon
Underworld Anarchist's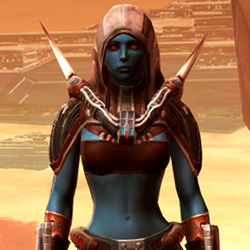 Exposed Extrovert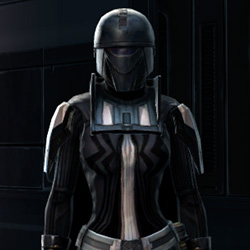 Marauder's Exalted
Revan Reborn
Reconstructed Apprentice
More Sith Warrior Armors
More Cybernetics Armors
Series 615 Cybernetic
B-300 Cybernetic
Series 512 Cybernetic
B-200 Cybernetic
Series 858 Cybernetic Armor
Series 901 Cybernetic Armor
Enforcer's Eyeguard
B-100 Cybernetic
Series 616 Cybernetic
Series 510 Cybernetic
Series 212 Cybernetic
Series 505 Cybernetic
More Cybernetics Armors
More Plated Leg Armor Armors
Unburdened Champion
Classic Forward Recon
Concentrated Fire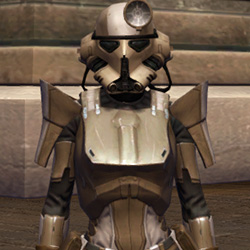 Tech Medic
Vandinite Asylum
War Hero Combat Tech
War Hero Eliminator
War Hero Combat Medic
Woads Instinct
Proficient Hitman's
Resolute Protector
Xonolite Asylum
More Plated Leg Armor Armors
More Black Armors
Darth Malgus's
Remnant Dreadguard Knight
Taskmaster
Game Plan
Marka Ragnos's
Chaotic Force-Master's
Defiant Mender MK-16 (Armormech)
Relaxed Jumpsuit
Eternal Conqueror Targeter
Casual Vandal
Trimantium Body Armor
Bold Hellion's
More Black Armors
Outfit Database ID: 1612 - Added: 0000-00-00 00:00:00 - Opposite: 0 - Identical: 0 - Similar: 1553
Like this

guide?Pledge to support Swtorista videos, guides and lists!
✚ Support with Patreon
✚ Support with YouTube
✚ Support with Twitch
In return, get:
Discord Chat
50+ Lore Audio Readings
Ensure future of guides!