Have a suggestion or correction? A volunteer can help update the website! To report an issue, go to the Swtorista Website Discord and post your report as a single message in the #report-issue channel. You will need to make a free Discord account.
Similar Armor Sets
These armors have a very similar shape to the Force Herald armor set.
Sanctified Caretaker
Omenbringer
Jedi Initiate
Galactic Command Tier 1 Armors
These armors are obtained in similar ways.
Vicious Adept
Underworld Enforcer
Ruthless Challenger
Recon Spotter
Mandalorian Enforcer
Disciplined Conscript
Devout Overseer
More Jedi Consular Armors
Exarch Onslaught MK-26 (Armormech)
Steadfast Master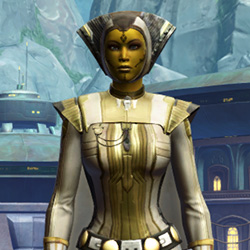 Traditional Demicot
Traditional Brocart
Bastila Shan's
Traditional Nylite
Artifact Seeker's
Rebuking Assault
Dramassian Aegis
Tund Sorcerer's
Kreia's
Voss Mystic
More Jedi Consular Armors
More Fancy Hat Armors
Force Magister
Cunning Statesman's
Omniscient Master
Charged Peacemaker
Consular Adept
Remnant Resurrected Consular
Feast Attire
Freedon Nadd's
Ciridium Onslaught
Ulgo Loyalist
Guerrilla Tactician's
Imperial Cadet's
More Fancy Hat Armors
More Orange Armors
Coil Explorer's
GSI Tactical
Hadrium Asylum
War Hero Enforcer (Rated)
War-Forged MK-2 (Synthweaving)
THORN Epicenter (Red)
Culling Blade
Naga Sadow's
Dashing Rogue
War-Forged MK-3 (Synthweaving)
Imperial Containment Officer
Unbreakable Veteran's
More Orange Armors
Outfit Database ID: 1589 - Added: 2018-12-08 22:15:02 - Opposite: 0 - Identical: 0 - Similar: 1121
Like this

guide?Pledge to support Swtorista videos, guides and lists!
✚ Support with Patreon
✚ Support with YouTube
✚ Support with Twitch
In return, get:
Discord Chat
50+ Lore Audio Readings
Ensure future of guides!