Have a suggestion or correction? A volunteer can help update the website! To report an issue, go to the Swtorista Website Discord and post your report as a single message in the #report-issue channel. You will need to make a free Discord account.
Similar Armor Sets
These armors have a very similar shape to the Honored Saberist's Harness armor set.
Resilient Polyplast
Vine-silk Force Expert's
Vine-silk Aegis
More Jedi Knight Armors
Renowned Duelist
Lucien Draay's
Force Disciple's
Traveler (Republic)
Exiled Knight's
Jedi Knight Revan
Ablative Plasteel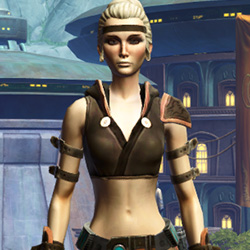 Shadowsilk Aegis
Thexan's
War Hero Vindicator (Rated)
War Hero War Leader
Lashaa Aegis
More Jedi Knight Armors
More Brown Armors
Citadel Pummeler
Ablative Laminoid
Omenbringer
Tactical Ranger
Jedi Strategist's
Dashing Hero's
Defiant Mender MK-26 (Armormech) (Republic)
Dune Stalker
Ablative Resinite
Potent Champion
Renowned Duelist
War Hero Survivor
More Brown Armors
More Light Pants Armors
Alde Statesman's
Outlander Observer's
Fortified Lacqerous
Remnant Arkanian Warrior
Underwater Adventurer
B-300 Cybernetic
War Hero Supercommando (Rated)
Polyplast Ultramesh
Imperial Field Agent's
War Hero Stalker (Rated)
Classic Trailblazer's
Seasoned Professional's
More Light Pants Armors
Outfit Database ID: 956 - Added: 0000-00-00 00:00:00 - Opposite: 0 - Identical: 0 - Similar: 1406
Like this

guide?Pledge to support Swtorista videos, guides and lists!
✚ Support with Patreon
✚ Support with YouTube
✚ Support with Twitch
In return, get:
Discord Chat
50+ Lore Audio Readings
Ensure future of guides!