Have a suggestion or correction? A volunteer can help update the website! To report an issue, go to the Swtorista Website Discord and post your report as a single message in the #report-issue channel. You will need to make a free Discord account.
Galactic Command Tier 1 Armors
These armors are obtained in similar ways.
Vicious Adept
Underworld Enforcer
Ruthless Challenger
Recon Spotter
Mandalorian Enforcer
Force Herald
Disciplined Conscript
Devout Overseer
More Sith Warrior Armors
Septsilk Force Expert's
Hypercloth Aegis
Traditional Nylite
Visas Marr's
Septsilk Aegis
Brutal Executioner
Veda Force Expert's
Sith Raider
Armor of Darth Revan
Ruthless Oppressor
Sorcerer
Reinforced Diatium
More Sith Warrior Armors
More Bounty Hunter Armors
Classic Contractor's
Defiant Asylum MK-26 (Armormech) (Imperial)
Trainee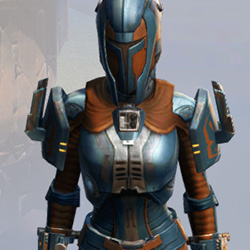 Remnant Yavin Bounty Hunter
Headhunter
Nomad
Commander Vizla's
Bionic Raider
Eternal Conqueror Boltblaster
Eternal Battler Boltblaster
Trimantium Asylum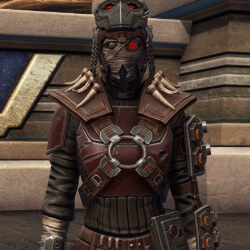 Furious Gladiator
More Bounty Hunter Armors
More Red Armors
Battlemaster Supercommando
Marauder's Renowned
Remnant Yavin Inquisitor
Revanite Champion's
Vrook Lamar's
Reinforced Chanlon
War Hero Combat Tech (Rated)
Underworld Anarchist's
Remnant Underworld Smuggler
Republic Protector's
Squadron Leader's
Esne Fanatic's
More Red Armors
Outfit Database ID: 1586 - Added: 2018-12-08 22:08:22 - Opposite: 0 - Identical: 0 - Similar: 0
Like this

guide?Pledge to support Swtorista videos, guides and lists!
✚ Support with Patreon
✚ Support with YouTube
✚ Support with Twitch
In return, get:
Discord Chat
50+ Lore Audio Readings
Ensure future of guides!