Galactic Command Tier 1 Armors
These armors are obtained in similar ways.
Vicious Adept
Underworld Enforcer
Ruthless Challenger
Recon Spotter
Mandalorian Enforcer
Force Herald
Disciplined Conscript
Devout Overseer
More Sith Warrior Armors
Sith Archon
Shadowsilk Force Expert's
Exar Kun's
War Hero War Leader
Underworld Anarchist's
Imperial Bastion's
Darth Andeddu's
Destroyer
Dread Enforcer
Revanite Champion's
Veda Aegis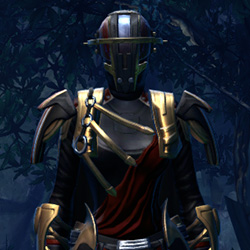 Revanite Avenger
More Sith Warrior Armors
More Bounty Hunter Armors
RD-17A Hellfire
Meteor Brawler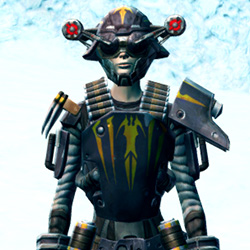 Frontline Mercenary
Madilon Asylum
Eternal Brawler Demolisher's
Energized Manhunter
Rohlan Dyre's
Bolted (Imperial)
Notorious
Rim Runner
GSI Infiltration
Mercenary Elite
More Bounty Hunter Armors
More Red Armors
War Hero Stalker (Rated)
Dark Seeker's
Revanite Pursuer
Romex Force Expert's
Eternal Battler Targeter
Festive Life Day Robes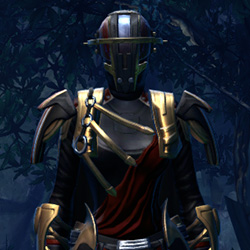 Revanite Avenger
Royal Guardian's
Stimulated
Controller
Frasium Onslaught
Vrook Lamar's
More Red Armors
Outfit Database ID: 1586 - Added: 2018-12-08 22:08:22 - Opposite: 0 - Identical: 0 - Similar: 0
Like this

guide?Pledge to support Swtorista videos, guides and lists!
✚ Support with Patreon
✚ Support with YouTube
✚ Support with Twitch
In return, get:
Discord Chat
50+ Lore Readings
Ensure future of guides!
✚ Support with Merch
Sci-fi & Fantasy inspired pins
Real-life collector items
Beautiful, check!