Have a suggestion or correction? Go to the Swtorista Website Discord and post your report in the #armor channel. You will need to make a free Discord account.
Similar Armor Sets
These armors have a very similar shape to the Brutal Executioner armor set.
Dire Eliminator's Chestguard
Fortified Electrum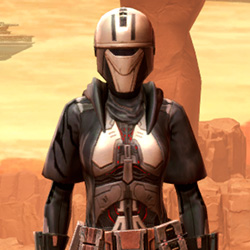 Reinforced Phobium
Tech Fragments Armors
These armors are obtained in similar ways.
Vicious Adept
Underworld Enforcer
Ruthless Challenger
Recon Spotter
Mandalorian Enforcer
Force Herald
Disciplined Conscript
Devout Overseer
Agile Sharpshooter
Concealed Hunter
Cunning Vigilante
Dark Praetorian
Savage Despot
Stately Diplomat
Unbreakable Defender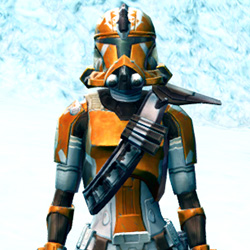 Veteran Infantry
Force Champion
Lone-Wolf
Rim Runner
Ruthless Commander
Shrewd Privateer
Tribal Hermit
Venerated Mystic
Ardent Warden
Deadeye
Devious Outlaw
Frenzied Instigator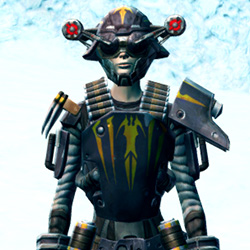 Frontline Mercenary
Hazardous Recon
Majestic Augur
Omniscient Master
More Sith Warrior Armors
Sith Recluse
Revanite Champion's
Armor of Darth Revan
Darth Malak's
Dashing Blademaster
Traditional Nylite
Sith Cultist's
The Victor
Juggernaut's Renowned
Exiled Padawan
Expatriate's
Darth Malgus's
More Sith Warrior Armors
More Black Armors
Defiant Onslaught MK-26 (Synthweaving) (Imperial)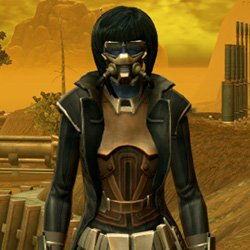 TD-07A Scorpion
Enhanced Surveillance
Voltaic Vandal
Chaotic Force-Master's
Enforcer's Eyeguard
Dark Seeker's
Tormented
Sorcerer
Balmorran Agent
Shadow Disciple's
Battlemaster Combat Tech
More Black Armors
More Light Pants Armors
War Hero Survivor (Rep)
Exterminator's
Gunslinger Elite
Ablative Lacqerous
Classic Contractor's
Outrider's Flight Jacket
Smuggler's Renowned
Tionese Survivor (Rep)
Revered Chronicler's
Silent Ghost's
Stalker's
Freedon Nadd's
More Light Pants Armors
Outfit Database ID: 1601 - Added: 0000-00-00 00:00:00 - Opposite: 0 - Identical: 0 - Similar: 1414