Similar Armor Sets
These armors have a very similar shape to the Brutal Executioner armor set.
Dire Eliminator's Chestguard
Fortified Electrum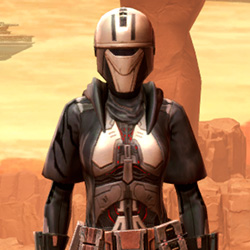 Reinforced Phobium
Galactic Command Crate Tier 3 Armors
These armors are obtained in similar ways.
Force Champion
Lone-Wolf
Rim Runner
Ruthless Commander
Shrewd Privateer
Tribal Hermit
Venerated Mystic
More Sith Warrior Armors
Juggernaut's Exalted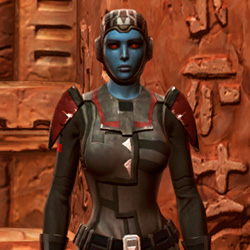 Blade Tyrant
Remnant Dreadguard Warrior
Dramatic Extrovert's
Fallen Defender's
Traditional Brocart
Remnant Arkanian Warrior
Remnant Underworld Inquisitor
Perfect Form
Ablative Lacqerous
War Hero Vindicator
Vine-silk Aegis
More Sith Warrior Armors
More Black Armors
Revanite Pursuer
Saava Force Expert
Lashaa Force Expert's
Omniscient Master
Probe Tech
Underworld Instigator's
War Hero Survivor (Rated)
Game Plan
Remnant Resurrected Bounty Hunter
Confiscated Mercenary
Classic Despot's
Freelance Hunter
More Black Armors
More Light Pants Armors
Underwater Adventurer
Sith Annihilator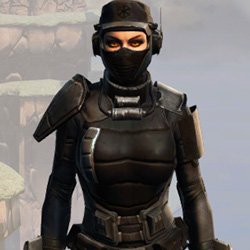 Remnant Resurrected Agent
Columi Eliminator (Rep)
Remnant Arkanian Agent
Dramatic Extrovert's
Dust Viper Bandit's
Sovereign Executioner
Jungle Ambusher
Tionese Vindicator (Imp)
Casual Vandal
Cutthroat Buccaneer
More Light Pants Armors
Outfit Database ID: 1601 - Added: 0000-00-00 00:00:00 - Opposite: 0 - Identical: 0 - Similar: 1414
Like this

guide?Pledge to support Swtorista videos, guides and lists!
✚ Support with Patreon
✚ Support with YouTube
✚ Support with Twitch
In return, get:
Discord Chat
50+ Lore Readings
Ensure future of guides!
✚ Support with Merch
Sci-fi & Fantasy inspired pins
Real-life collector items
Beautiful, check!