Have a suggestion or correction? Go to the Swtorista Website Discord and post your report in the #armor channel. You will need to make a free Discord account.
Similar Armor Sets
These armors have a very similar shape to the Light Devotee No Hood armor set.
Light Devotee
Dark Vs Light Armors
These armors are obtained in similar ways.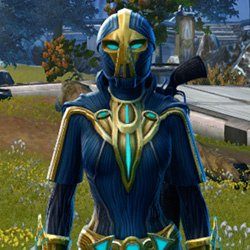 Righteous Harbinger
Righteous Mystic
Righteous Enforcer
Dark Disciple
Dread Enforcer
Dread Harbinger
Dread Mystic
More Jedi Consular Armors
Casual Combatant
War Hero Force-Mystic
Stylish Dress
Master Orr
Romex Force Expert's
Force Apprentice's
Charged Hypercloth Aegis
Vine-silk Force Expert's
Armored Diplomat
Remnant Underworld Knight (Hoodless)
Consular's Exalted
Patient Defender (no hood)
More Jedi Consular Armors
More Fancy Hat Armors
Rakata Duelist (Imperial)
Force Herald
Revered Seer's
Fancy Reveler
Formal
Imperial Cadet's
Rebuking Assault
Shikaakwan Royalty's
Efficient Termination
Wicked Huntress's
Elite Tactician
Noble Commander's
More Fancy Hat Armors
More Brown Armors
Rakata Targeter (Imperial)
Bastila Shan's
Sand People Bloodguard
Satele Shan's
Dashing Blademaster
Eternal Commander MK-3 Survivor
Resolute Guardian
Hypercloth Force Expert's
Chanlon Onslaught
Unbreakable Defender
Vine-silk Force Expert's
Savage Hunter
More Brown Armors
Outfit Database ID: 1682 - Added: 2019-07-05 00:43:46 - Opposite: 0 - Identical: 0 - Similar: 1563