Have a suggestion or correction? A volunteer can help update the website! To report an issue, go to the Swtorista Website Discord and post your report as a single message in the #report-issue channel. You will need to make a free Discord account.
Similar Armor Sets
These armors have a very similar shape to the Mandalorian Enforcer armor set.
Mandalorian Seeker
RD-17A Hellfire
Mercenary Elite
Galactic Command Tier 1 Armors
These armors are obtained in similar ways.
Vicious Adept
Underworld Enforcer
Ruthless Challenger
Recon Spotter
Force Herald
Disciplined Conscript
Devout Overseer
More Bounty Hunter Armors
Frasium Asylum
Tythian Disciple's
Tempered Laminoid
Mullinine Asylum
Inscrutable Pursuer's
Dune Stalker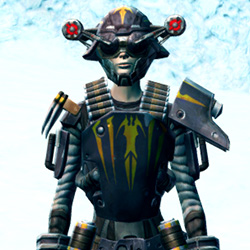 Frontline Mercenary
Titanium Asylum
Bionic Raider
Terenthium Asylum
Hutt Cartel
Energized Manhunter
More Bounty Hunter Armors
More Mandalorian Armors
Mandalore the Indomitable's
Cassus Fett's
Mandalore the Ultimate's
Relic Plunderer's
TT-17A Hydra
Cyber Agent Cloaked
Electrum Onslaught
Infamous Bounty Hunter
Merciless Seeker's
Shae Vizla's
Quadranium Asylum
Cyber Agent
More Mandalorian Armors
More Red Armors
Eternal Conqueror Mender
Eternal Brawler Demolisher's
Ruthless Commander
Shikaakwan Royalty's
Plasteel Battle
Mantellian Privateer
Confiscated Mercenary
Freedon Nadd's
Citadel Targeter
Remnant Underworld Smuggler
Citadel Mender
Eternal Conqueror Demolisher
More Red Armors
Outfit Database ID: 1588 - Added: 2018-12-08 22:12:11 - Opposite: 0 - Identical: 1469 - Similar: 1336
Like this

guide?Pledge to support Swtorista videos, guides and lists!
✚ Support with Patreon
✚ Support with YouTube
✚ Support with Twitch
In return, get:
Discord Chat
50+ Lore Audio Readings
Ensure future of guides!