Have a suggestion or correction? Go to the Swtorista Website Discord and post your report in the #armor channel. You will need to make a free Discord account.
Similar Armor Sets
These armors have a very similar shape to the Mandalorian Enforcer armor set.
Mandalorian Seeker
RD-17A Hellfire
Mercenary Elite
Tech Fragments Armors
These armors are obtained in similar ways.
Vicious Adept
Underworld Enforcer
Ruthless Challenger
Recon Spotter
Force Herald
Disciplined Conscript
Devout Overseer
Agile Sharpshooter
Concealed Hunter
Cunning Vigilante
Dark Praetorian
Savage Despot
Stately Diplomat
Unbreakable Defender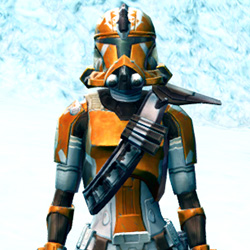 Veteran Infantry
Brutal Executioner
Force Champion
Lone-Wolf
Rim Runner
Ruthless Commander
Shrewd Privateer
Tribal Hermit
Venerated Mystic
Ardent Warden
Deadeye
Devious Outlaw
Frenzied Instigator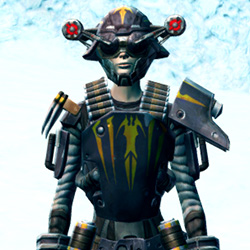 Frontline Mercenary
Hazardous Recon
Majestic Augur
Omniscient Master
More Bounty Hunter Armors
Ciridium Asylum
Sand People Pillager
GSI Tactical
CZ-5 Armored Assault Harness
Outer Rim Hunter's
Corellian Bounty Hunter
Battlemaster Supercommando
Professional
Mullinine Asylum
Eternal Conqueror Boltblaster
Xonolite Asylum
Hutt Cartel
More Bounty Hunter Armors
More Mandalorian Armors
Cassus Fett's
Commander Vizla's
Mandalorian Hunter
Mandalore the Indomitable's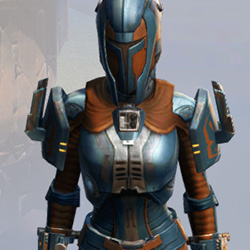 Remnant Yavin Bounty Hunter
Electrum Onslaught
Forgemaster
Mandalore the Preserver's
Merciless Seeker's
TT-17A Hydra
Charismatic Mandalorian's
Rohlan Dyre's
More Mandalorian Armors
More Red Armors
Fancy Reveler
War Hero Field Tech (Rated)
Sith Dueling
Balmorran Trooper
Dark Disciple
Fallen Defender's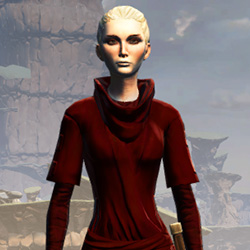 Life Day Robes
Royal Guardian's
Dark Augur's
Voss Warrior
Exquisite Dancer
Revered Seer's
More Red Armors
Outfit Database ID: 1588 - Added: 2018-12-08 22:12:11 - Opposite: 0 - Identical: 0 - Similar: 1336