Have a suggestion or correction? Go to the Swtorista Website Discord and post your report in the #armor channel. You will need to make a free Discord account.
Identical Armor Sets
These armors are extremely similar, or identical, to the Eternal Brawler Force-Lord's armor set.
Eternal Brawler Duelist's
Eternal Brawler Force-Healer's
Eternal Championship Armors
These armors are obtained in similar ways.
Eternal Champion's
Eternal Brawler Boltblaster's
Eternal Brawler Bulwark's
Eternal Brawler Demolisher's
Eternal Brawler Force-Healer's
Eternal Brawler Force-Lord's
Eternal Brawler Med-Tech's
Eternal Brawler Mender's
Eternal Brawler Pummeler's
Eternal Brawler Targeter's
Eternal Battler Boltblaster
Eternal Battler Bulwark
Eternal Battler Demolisher
Eternal Battler Duelist
Eternal Battler Force-Healer
Eternal Battler Force-Lord
Eternal Battler Med-Tech
Eternal Battler Mender
Eternal Battler Pummeler
Eternal Battler Targeter
Eternal Conqueror Boltblaster
Eternal Conqueror Bulwark
Eternal Conqueror Demolisher
Eternal Conqueror Duelist
Eternal Conqueror Force-Healer
Eternal Conqueror Force-Lord
Eternal Conqueror Med-Tech
Eternal Conqueror Mender
Eternal Conqueror Pummeler
Eternal Conqueror Targeter
More Revealing Armors
Unfettered Trench Coat
Ablative Lacqerous
Relaxed Vestments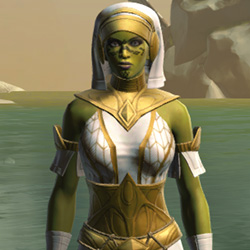 Resort Swimwear (no cape)
Sith Combatant
Warrior's Pulsing
Relaxed Tracksuit
Traditional Demicot
Relaxed Jumpsuit
Vintage Brawler
Traditional Brocart
Stylish Dancer's
More Revealing Armors
More Goggles Armors
Hoth Defender's
Diligent Engineer's
Nova Blade Gunner
Deadeye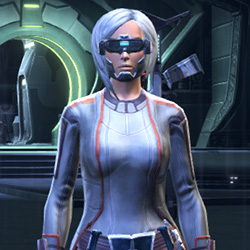 Nar Shaddaa Agent
Hoth Smuggler
Veda Aegis
Remnant Arkanian Smuggler
Repositioning
Dynamic Sleuth
Drifter
Duststorm Survivor's
More Goggles Armors
More Blue Armors
Blatant Bek
Mercenary Elite
Remnant Yavin Inquisitor
Revered Huntmaster's
Mandalorian Hunter
Smuggler's Exalted
Alde Statesman's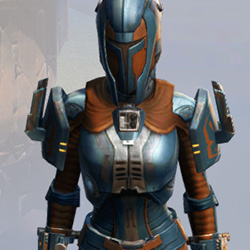 Remnant Yavin Bounty Hunter
Hoth Ranger's
Recovered Hero's
Remnant Yavin Agent
Corellian Trooper
More Blue Armors
More White Armors
Frontline Defender
Republic Trooper
Umbaran Guardian
Seasoned Professional's
Nomad
Battlemaster Combat Medic
Voidmaster
Wild Smuggler
Apex Sovereign's
Phobium Onslaught
Noble Attendant's
Jarael's
More White Armors
Outfit Database ID: 1474 - Added: 0000-00-00 00:00:00 - Opposite: 0 - Identical: 0 - Similar: 0