Similar Armor Sets
These armors have a very similar shape to the Dread Enforcer armor set.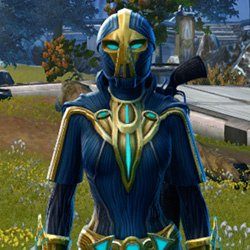 Righteous Harbinger
Righteous Mystic
Righteous Enforcer
Dread Harbinger
Dread Mystic
Aggressive Treatment
Dark Vs Light Armors
These armors are obtained in similar ways.
Light Devotee
Dark Disciple
Light Devotee No Hood
More Sith Warrior Armors
Nanosilk Force Expert's
Dire Eliminator's Chestguard
Ablative Plasteel
Sith Archon
Sith Raider
Remulus Dreypa's
Thexan's
Remnant Arkanian Inquisitor
Remnant Resurrected Warrior
Perfect Form
Lashaa Aegis
Juggernaut's Renowned
More Sith Warrior Armors
More Animated Armors
Keeper of Iokath's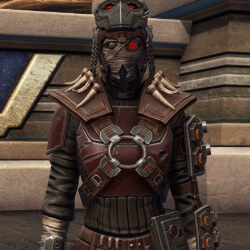 Furious Gladiator
Series 917 Cybernetic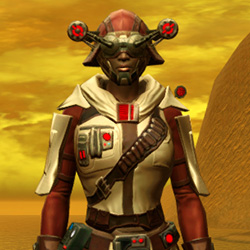 Galvanized Manhunter
Energetic Combatant
Hazardous Physician
Battlefield Technician's
Precise Targeter
Dynamic Vandal
Relentless Hunter's
Covert Cipher
Potent Combatant
More Animated Armors
More Leg Wraps Armors
Ablative Plasteel
Ravager's
Hunter's Renowned
Orbalisk
Wasteland Crusader's
War Hero Survivor
Dathomir Shaman's
Bolted (Imperial)
War Hero Stalker (Rated)
Shrewd Privateer
Sinister Warrior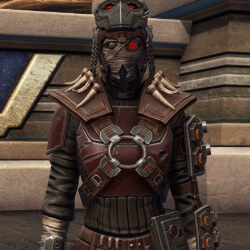 Furious Gladiator
More Leg Wraps Armors
More Red Armors
Vintage Republic Military
Eternal Conqueror Force-Healer
Darth Skotia's
Resistance Fighter's
Eternal Battler Duelist
Eternal Conqueror Mender
Intrepid Knight's
Ablative Plasteel
War Hero Survivor (Rated)
Republic Protector's
Interceptor
Madilon Asylum
More Red Armors
More Light Pants Armors
Columi Field Medic (Rep)
Satele Shan's
Mandalorian Hunter
Alde Statesman's
Eternal Commander MK-15 Field Medic
Dark Legionnaire's
Elegant Loungewear
Revered Huntmaster's
Eternal Conqueror Targeter
Corellian Pilot's
Overwatch Sentry
Citadel Targeter
More Light Pants Armors
Outfit Database ID: 1568 - Added: 2018-10-26 11:26:52 - Opposite: 0 - Identical: 1626 - Similar: 1564
Like this

guide?Pledge to support Swtorista videos, guides and lists!
✚ Support with Patreon
✚ Support with YouTube
✚ Support with Twitch
In return, get:
Discord Chat
50+ Lore Readings
Ensure future of guides!
✚ Support with Merch
Sci-fi & Fantasy inspired pins
Real-life collector items
Beautiful, check!