Have a suggestion or correction? A volunteer can help update the website! To report an issue, go to the Swtorista Website Discord and post your report as a single message in the #report-issue channel. You will need to make a free Discord account.
Similar Armor Sets
These armors have a very similar shape to the Light Devotee armor set.
Light Devotee No Hood
Dark Vs Light Armors
These armors are obtained in similar ways.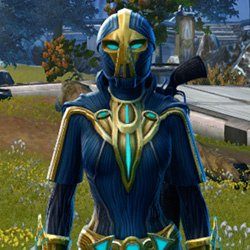 Righteous Harbinger
Righteous Mystic
Righteous Enforcer
Dark Disciple
Dread Enforcer
Dread Harbinger
Dread Mystic
More Jedi Consular Armors
Ambitious Warrior
Exarch Onslaught MK-26 (Armormech)
Citadel Duelist
Classic Conservator's
Exiled Master's
Reinforced Chanlon
Force Herald
Force Magister
Empowered Restorer
Armored Diplomat
Exarch Mender MK-26 (Synthweaving)
Martial Pilgrim's Amor Set
More Jedi Consular Armors
More Fancy Hat Armors
Anointed Demicot
Venerated Mystic
Marka Ragnos's
Rebuking Assault
Cunning Statesman's
Force Herald
Ciridium Onslaught
Consular Adept
Eternal Conqueror Duelist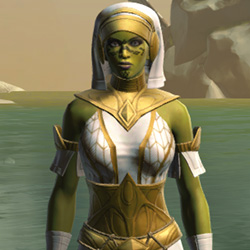 Resort Swimwear (no cape)
Eternal Battler Force-Healer
Remnant Resurrected Consular
More Fancy Hat Armors
More Brown Armors
Ablative Plasteel
Cutthroat Buccaneer
Preceptor's
Remote Outcast
Battlemaster War Leader
Guerrilla Tactician's
Contract Hunter (alternate)
Ablative Laminoid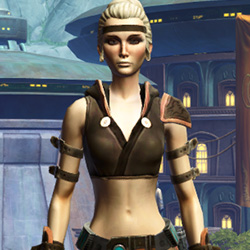 Shadowsilk Aegis
Shrewd Rascal's
Atton Rand's
Masterwork Ancient Enforcer
More Brown Armors
Outfit Database ID: 1563 - Added: 2018-10-25 21:17:32 - Opposite: 0 - Identical: 2123 - Similar: 1563
Like this

guide?Pledge to support Swtorista videos, guides and lists!
✚ Support with Patreon
✚ Support with YouTube
✚ Support with Twitch
In return, get:
Discord Chat
50+ Lore Audio Readings
Ensure future of guides!