Have a suggestion or correction? A volunteer can help update the website! To report an issue, go to the Swtorista Website Discord and post your report as a single message in the #report-issue channel. You will need to make a free Discord account.
Similar Armor Sets
These armors have a very similar shape to the Charged Peacemaker armor set.
Overloaded Peacemaker
Consular's Exalted
Traditional Thermoweave
Stately Diplomat
Rodian Flame Force Expert
Saava Force Expert
More Jedi Consular Armors
Force Apprentice's
Honored Champion's Robe
Ablative Lacqerous
Trimantium Jacket
Aggressive Treatment
Matriarchal
Force Herald
Empowered Restorer
Citadel Force-healer
Force Magister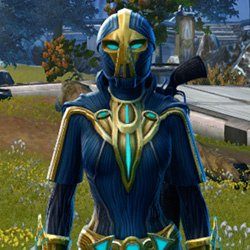 Righteous Harbinger
Relnex's
More Jedi Consular Armors
More Animated Armors
Charismatic Mandalorian's
Series 512 Cybernetic
Dynamic Brawler's
Hoth Defender's
Righteous Enforcer
Charged Interrogator
Voltaic Sleuth
Dynamic Sleuth
Dread Enforcer
Energetic Champion
Series 505 Cybernetic
Tactical Infantry
More Animated Armors
More Fancy Hat Armors
Rist Statesman's
Casual Connoisseur's
Shikaakwan Royalty's
Rebuking Assault
Magnificent Dancer
Eternal Battler Force-Healer
Dark Augur's
Efficient Termination
Cunning Statesman's
Consular Adept
Elegant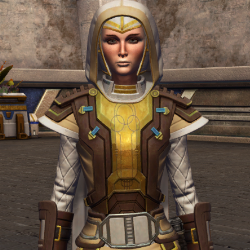 Patient Defender (hood)
More Fancy Hat Armors
More Unique Hat Armors
Regal Apparel
War-Forged MK-2 (Synthweaving)
Series 614 Cybernetic
Ottegan Force Expert
Luxurious Dress
Trimantium Jacket
Unshakable Trooper's
Series 616 Cybernetic
Veda Cloth Body Armor
Dathomir Shaman's
Covert Energy
Feast Attire
More Unique Hat Armors
More Blue Armors
Mercenary Elite
Security Chief's
Remnant Resurrected Knight
War-Forged MK-2 (Armormech)
Fortified Defender
Trainee
Righteous Enforcer
War Hero Supercommando
Organa Loyalist's
Calo Nord's
Traditional Nylite
Frontline Scourge
More Blue Armors
More Purple Armors
Malevolent Interrogator
Savage Despot
Balanced Combatant's
Thermal Retention
Stylish Dress
Voltaic Vandal
Remnant Yavin Warrior
Decelerator
Sovereign Executioner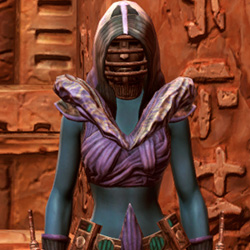 Grand Inquisitor
Inquisitor's Renowned
Imperial Advisor's
More Purple Armors
Outfit Database ID: 813 - Added: 0000-00-00 00:00:00 - Opposite: 0 - Identical: 0 - Similar: 1386
Like this

guide?Pledge to support Swtorista videos, guides and lists!
✚ Support with Patreon
✚ Support with YouTube
✚ Support with Twitch
In return, get:
Discord Chat
50+ Lore Audio Readings
Ensure future of guides!