Have a suggestion or correction? Go to the Swtorista Website Discord and post your report in the #armor channel. You will need to make a free Discord account.
Identical Armor Sets
These armors are extremely similar, or identical, to the Eternal Brawler Duelist's armor set.
Eternal Brawler Force-Healer's
Eternal Brawler Force-Lord's
Eternal Championship Armors
These armors are obtained in similar ways.
Eternal Champion's
Eternal Brawler Boltblaster's
Eternal Brawler Bulwark's
Eternal Brawler Demolisher's
Eternal Brawler Force-Healer's
Eternal Brawler Force-Lord's
Eternal Brawler Med-Tech's
Eternal Brawler Mender's
Eternal Brawler Pummeler's
Eternal Brawler Targeter's
Eternal Battler Boltblaster
Eternal Battler Bulwark
Eternal Battler Demolisher
Eternal Battler Duelist
Eternal Battler Force-Healer
Eternal Battler Force-Lord
Eternal Battler Med-Tech
Eternal Battler Mender
Eternal Battler Pummeler
Eternal Battler Targeter
Eternal Conqueror Boltblaster
Eternal Conqueror Bulwark
Eternal Conqueror Demolisher
Eternal Conqueror Duelist
Eternal Conqueror Force-Healer
Eternal Conqueror Force-Lord
Eternal Conqueror Med-Tech
Eternal Conqueror Mender
Eternal Conqueror Pummeler
Eternal Conqueror Targeter
More Revealing Armors
Ottegan Force Expert
Casual Combatant
Relaxed Uniform
Relaxed Jumpsuit
Basic Women's Underwear
Dramatic Extrovert's
Fancy Reveler
Relaxed Vestments
Relaxed Vestments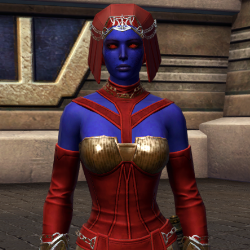 Festival Dress
Euphoric Corellian
Unburdened Champion
More Revealing Armors
More Goggles Armors
War Hero Enforcer
Lone-Wolf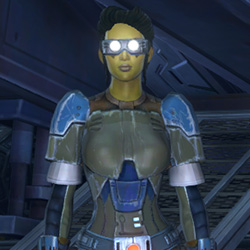 Hutta Bounty Hunter
Czerka Security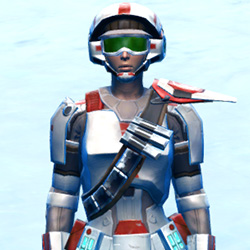 Lacqerous Mesh
Diligent Engineer's
Remnant Arkanian Knight
Dust Viper Bandit's
Intelligence Officer
Outlander Patroller's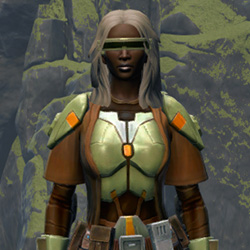 Jedi Stormguard
Peacekeeper Elite
More Goggles Armors
More Blue Armors
Republic Practice Jersey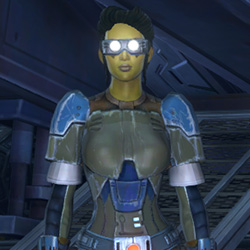 Hutta Bounty Hunter
Civilian Pilot
Rugged Infantry
Righteous Mystic
Coruscanti Trooper
War Hero Supercommando
Traditional Nylite
Organa Loyalist's
Laminoid Battle
Phobium Onslaught
Charged Peacemaker
More Blue Armors
Outfit Database ID: 1472 - Added: 0000-00-00 00:00:00 - Opposite: 0 - Identical: 0 - Similar: 0