Have a suggestion or correction? Go to the Swtorista Website Discord and post your report in the #armor channel. You will need to make a free Discord account.
Similar Armor Sets
These armors have a very similar shape to the Dreamsilk Force Expert armor set.
Romex Force Expert's
Crafting Synthweaving Reverse Engineer Armors
These armors are obtained in similar ways.
Rodian Flame Force Expert
Ottegan Force Expert
Saava Force Expert
Dreamsilk Aegis Vestments
Ottegan Aegis
Rodian Flame Force Expert
Ottegan Force Expert
Saava Force Expert
Ottegan Aegis
Defiant Asylum MK-26 (Synthweaving) (Imperial)
Defiant Mender MK-26 (Synthweaving) (Imperial)
Defiant Onslaught MK-26 (Synthweaving) (Imperial)
Exarch Asylum MK-26 (Synthweaving)
Exarch Mender MK-26 (Synthweaving)
Exarch Onslaught MK-26 (Synthweaving)
War-Forged MK-3 (Synthweaving)
War-Forged MK-2 (Synthweaving)
Defiant Mender MK-26 (Synthweaving) (Republic)
Defiant Onslaught MK-26 (Synthweaving) (Republic)
Defiant Asylum MK-26 (Synthweaving) (Republic)
Nanite Threaded Force Expert's
Killik-silk Aegis
Nanite Threaded Force Expert's
More Smuggler Armors
Laminoid Battle
Dune Stalker
Mantellian Smuggler
Secret Agent's
Quadranium Onslaught
TD-07A Blackguard
Titanium Onslaught
Turncoat
Ciridium Onslaught
Iokath MK-5 Combat Medic
Vandinite Onslaught
Eternal Commander MK-15 Weaponmaster
More Smuggler Armors
More Red Armors
Victorious Infiltrator
Saul Karath's
Citadel Targeter
Balmorran Smuggler
Remnant Underworld Smuggler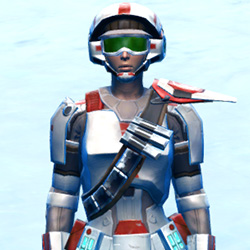 Lacqerous Mesh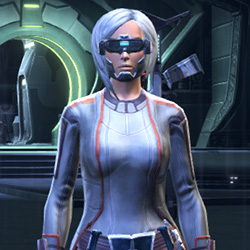 Nar Shaddaa Agent
Fallen Defender's
Corellian Smuggler
War Hero Supercommando (Rated)
Marauder
Eternal Battler Force-Healer
More Red Armors
More White Armors
Umbaran Guardian
Badlands Renegade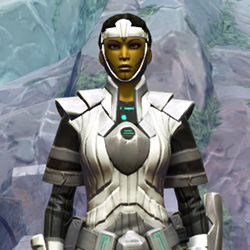 Zakuulan Preserver's
Cunning Statesman's
Recon Trooper
Hoth Defender's
Eternal Commander MK-15 Force-Mystic
Rakata Boltblaster (Republic)
White Scalene
Valkorion's Armor Set
Tionese Boltblaster (Republic)
Classic Spymaster's Auxiliary
More White Armors
Outfit Database ID: 1922 - Added: 0000-00-00 00:00:00 - Opposite: 0 - Identical: 0 - Similar: 1922