Have a suggestion or correction? A volunteer can help update the website! To report an issue, go to the Swtorista Website Discord and post your report as a single message in the #report-issue channel. You will need to make a free Discord account.
Identical Armor Sets
These armors are extremely similar, or identical, to the Eternal Brawler Targeter's armor set.
Eternal Brawler Mender's
Eternal Championship Armors
These armors are obtained in similar ways.
Eternal Champion's
Eternal Brawler Boltblaster's
Eternal Brawler Bulwark's
Eternal Brawler Demolisher's
Eternal Brawler Duelist's
Eternal Brawler Force-Healer's
Eternal Brawler Force-Lord's
Eternal Brawler Med-Tech's
Eternal Brawler Pummeler's
Eternal Brawler Targeter's
Eternal Battler Boltblaster
Eternal Battler Bulwark
Eternal Battler Demolisher
Eternal Battler Duelist
Eternal Battler Force-Healer
Eternal Battler Force-Lord
Eternal Battler Med-Tech
Eternal Battler Mender
Eternal Battler Pummeler
Eternal Battler Targeter
Eternal Conqueror Boltblaster
Eternal Conqueror Bulwark
Eternal Conqueror Demolisher
Eternal Conqueror Duelist
Eternal Conqueror Force-Healer
Eternal Conqueror Force-Lord
Eternal Conqueror Med-Tech
Eternal Conqueror Mender
Eternal Conqueror Pummeler
Eternal Conqueror Targeter
More Smuggler Armors
Frontline Slicer
Je'daii Warrior (Hood Up)
Precise Targeter
eternal Commander MK-15 Supercommando
Eternal Commander MK-3 Force-master
Arkan's
Outrider's Flight Jacket
Madilon Onslaught
Blatant Bek
Resourceful Engineer's
Xonolite Onslaught
Trade Envoy's
More Smuggler Armors
More Red Armors
Ubrikkian Industries Corporate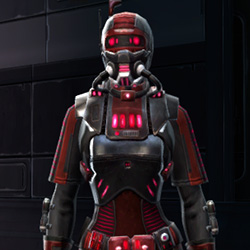 THORN Sanitization
Saul Karath's
Visas Marr's
Marauder
Warrior's Pulsing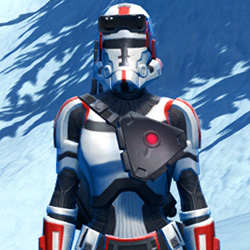 Havoc Squad
Relic Plunderer's
Revanite Champion's
Vintage Republic Military
Marauder's Renowned
Remnant Arkanian Inquisitor
More Red Armors
More Light Pants Armors
Freedon Nadd's
Nefarious Bandit's
Veda Cloth Vestments
Campaign Combat Tech (Rep)
Berserker
Mercenary Slicer's
Outlander Patroller's
Inscrutable Pursuer's
Citadel Demolisher
Rakata Enforcer (Rep)
Arctic Trooper
Underworld Instigator's
More Light Pants Armors
Outfit Database ID: 1478 - Added: 0000-00-00 00:00:00 - Opposite: 0 - Identical: 0 - Similar: 0
Like this

guide?Pledge to support Swtorista videos, guides and lists!
✚ Support with Patreon
✚ Support with YouTube
✚ Support with Twitch
In return, get:
Discord Chat
50+ Lore Audio Readings
Ensure future of guides!