Identical Armor Sets
These armors are extremely similar, or identical, to the Eternal Brawler Targeter's armor set.
Eternal Brawler Mender's
Eternal Championship Armors
These armors are obtained in similar ways.
Eternal Champion's
Eternal Brawler Boltblaster's
Eternal Brawler Bulwark's
Eternal Brawler Demolisher's
Eternal Brawler Duelist's
Eternal Brawler Force-Healer's
Eternal Brawler Force-Lord's
Eternal Brawler Med-Tech's
Eternal Brawler Pummeler's
Eternal Brawler Targeter's
Eternal Battler Boltblaster
Eternal Battler Bulwark
Eternal Battler Demolisher
Eternal Battler Duelist
Eternal Battler Force-Healer
Eternal Battler Force-Lord
Eternal Battler Med-Tech
Eternal Battler Mender
Eternal Battler Pummeler
Eternal Battler Targeter
Eternal Conqueror Boltblaster
Eternal Conqueror Bulwark
Eternal Conqueror Demolisher
Eternal Conqueror Duelist
Eternal Conqueror Force-Healer
Eternal Conqueror Force-Lord
Eternal Conqueror Med-Tech
Eternal Conqueror Mender
Eternal Conqueror Pummeler
Eternal Conqueror Targeter
More Smuggler Armors
Street Slicer's Longcoat
Rugged Smuggling
Citadel Mender
Badlands Explorer
Desert Scavenger's
Scout
eternal Commander MK-15 Supercommando
Madilon Onslaught
Eternal Commander MK-3 Combat Tech
Escape Artists
Unfettered Trench Coat
Je'daii Warrior (Hood Down)
More Smuggler Armors
More Red Armors
Mandalorian Enforcer
Exquisite Dancer
Remnant Resurrected Trooper
Imperial Bastion's
Veda Aegis
Dark Seeker's
Devious Outlaw
Revanite Pursuer
Fancy Reveler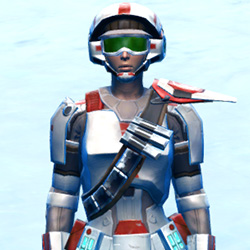 Lacqerous Mesh
CZ-18X Avalanche Chestplate
Energetic Champion
More Red Armors
More Light Pants Armors
Dire Warmaster's Body Armor
Agile Sharpshooter
Thana Vesh's
Arctic Scout's
Eternal Commander MK-15 Enforcer
Powered Exoguard
Madilon Onslaught
Hoth Ranger's
Battlefield Technician's
Campaign Enforcer (Rep)
Citadel Med-tech
Tionese War Leader (Rep)
More Light Pants Armors
Outfit Database ID: 1478 - Added: 0000-00-00 00:00:00 - Opposite: 0 - Identical: 166 - Similar: 0
Like this

guide?Pledge to support Swtorista videos, guides and lists!
✚ Support with Patreon
✚ Support with YouTube
✚ Support with Twitch
In return, get:
Discord Chat
50+ Lore Readings
Ensure future of guides!
✚ Support with Merch
Sci-fi & Fantasy inspired pins
Real-life collector items
Beautiful, check!