Have a suggestion or correction? A volunteer can help update the website! To report an issue, go to the Swtorista Website Discord and post your report as a single message in the #report-issue channel. You will need to make a free Discord account.
Similar Armor Sets
These armors have a very similar shape to the Drifter armor set.
Outlander Guerrilla's
More Bounty Hunter Armors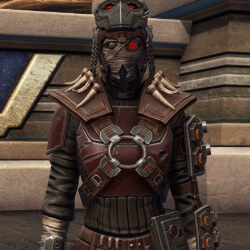 Furious Gladiator
Charismatic Mandalorian's
Game Plan
War Hero Eliminator
Dense Cuirass (Imperial)
Eternal Battler Demolisher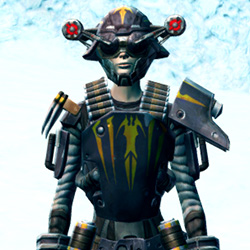 Frontline Mercenary
Revered Huntmaster's
War Hero Supercommando (Rated)
Eternal Conqueror Demolisher
Black Vulkar Swooper
Eternal Brawler Med-Tech's
More Bounty Hunter Armors
More Plated Leg Armor Armors
Unburdened Champion
Trooper's Exalted
Artifact Seeker's
Malgus Reborn
Battlemaster Supercommando
Dread Host
Warstorm Veteran's
Remnant Resurrected Knight
Organa Loyalist's
Frasium Asylum
Remnant Underworld Trooper
Wastelander's
More Plated Leg Armor Armors
More Goggles Armors
Titanium Onslaught
Resourceful Engineer's
Defiant Mender MK-26 (Armormech) (Republic)
Hoth Defender's
Mullinine Asylum
War-Forged MK-3 (Synthweaving)
Expert Outlaw's
Alliance Reconnaissance
Opportunistic Rogue's
Veda Force Expert's
Duststorm Survivor's
Recon Spotter
More Goggles Armors
More Green Armors
War Hero Enforcer
K-23 Hazmat
Voltaic Sleuth
Emergency Responder's Overcoat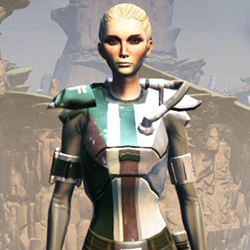 Guard Captain's Chestplate
Ceremonial Guard
Trainee
Shadow Disciple's
Magnificent Dancer
Agent
Citadel Med-tech
Havoc Squad Specialist's
More Green Armors
Outfit Database ID: 871 - Added: 0000-00-00 00:00:00 - Opposite: 0 - Identical: 0 - Similar: 871
Like this

guide?Pledge to support Swtorista videos, guides and lists!
✚ Support with Patreon
✚ Support with YouTube
✚ Support with Twitch
In return, get:
Discord Chat
50+ Lore Audio Readings
Ensure future of guides!