Have a suggestion or correction? A volunteer can help update the website! To report an issue, go to the Swtorista Website Discord and post your report as a single message in the #report-issue channel. You will need to make a free Discord account.
Similar Armor Sets
These armors have a very similar shape to the Relaxed Uniform armor set.
Relaxed Jumpsuit
Relaxed Tracksuit
More Revealing Armors
Eternal Brawler Duelist's
Reveler's Finery
Dashing Hero's
Skilled Hunter
Traditional Brocart
Warrior's Pulsing
Decelerator
Casual Vandal
Mira's
Casual Combatant
Ventilated Triumvirate
Eternal Brawler Force-Lord's
More Revealing Armors
More White Armors
Overwatch Officer
Hazardous Physician
Battlemaster Weaponmaster
Jedi Knight Revan
Eternal Battler Force-Lord
Apex Sovereign's
Temple Guardian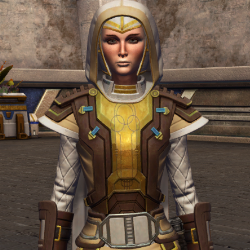 Patient Defender (hood)
Eternal Battler Force-Healer
Contraband Runner
Sogan Sur's
Pragmatic Master
More White Armors
More Light Pants Armors
Wasteland Crusader's
Relaxed Uniform
Squadron Ace's
Subversive
Eternal Conqueror Bulwark
Rugged Smuggling
Jarael's
Black Market and Arkanian, Trooper
Juhani's
Tionese Enforcer (Imp)
Remnant Underworld Agent
Rakata War Leader (Rep)
More Light Pants Armors
Outfit Database ID: 1081 - Added: 0000-00-00 00:00:00 - Opposite: 0 - Identical: 155 - Similar: 1081
Like this

guide?Pledge to support Swtorista videos, guides and lists!
✚ Support with Patreon
✚ Support with YouTube
✚ Support with Twitch
In return, get:
Discord Chat
50+ Lore Audio Readings
Ensure future of guides!