Have a suggestion or correction? A volunteer can help update the website! To report an issue, go to the Swtorista Website Discord and post your report as a single message in the #report-issue channel. You will need to make a free Discord account.
Similar Armor Sets
These armors have a very similar shape to the Dark Legionnaire's armor set.
Nimble Master
More Trooper Armors
Shield Warden
MA-52 Med-Tech Chestplate
War Hero Supercommando
Battlemaster Combat Medic
Hadrium Asylum
War Hero Eliminator (Rated)
Exarch Asylum MK-26 (Synthweaving)
Tactical Infantry
Arctic Trooper
Ruthless Commander
Unbreakable Veteran's
Frontline Scourge
More Trooper Armors
More Bounty Hunter Armors
Terenthium Asylum
TD-17A Imperator
Bolted (Imperial)
Remnant Arkanian Bounty Hunter
Mandalore the Preserver's
Silent Ghost's
Hunter's Renowned
War Hero Combat Tech (Rated)
Mullinine Asylum
Tempered Laminoid
Trainee
Tythian Disciple's
More Bounty Hunter Armors
More Butt Cape Armors
Hunter's Renowned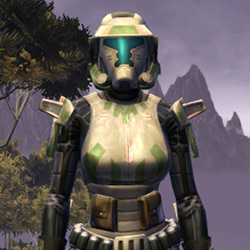 Electrum Onslaught
Hunter Killer
Battlemaster Vindicator
Vagabond
Rim Runner
Dramatic Extrovert's
Battlemaster Weaponmaster
Game Plan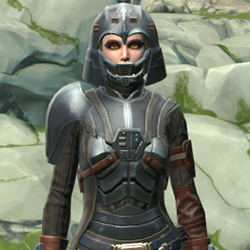 Distinguished Warden's
Remnant Dreadguard Inquisitor
Dune Stalker
More Butt Cape Armors
More Black Armors
Confiscated Mercenary
Nightlife Operative's
Covert Cipher
Energized Triumvirate
Mountain Explorer
Darth Sion's
Probe Tech
Classic Phantom
Ruthless Oppressor
Frenzied Instigator
Trimantium Body Armor
Remnant Dreadguard Smuggler
More Black Armors
More Light Pants Armors
Columi Eliminator (Rep)
Desert Scavenger's
Defiant Onslaught MK-26 (Armormech) (Imperial)
Hailstorm Brotherhood
Eternal Commander MK-15 Stalker
Bold Hellion's
Opportunistic Rogue's
Trimantium Onslaught
Titanium Onslaught
Tionese Survivor (Rep)
Arctic Scout's
Nanosilk Force Expert's
More Light Pants Armors
Outfit Database ID: 849 - Added: 0000-00-00 00:00:00 - Opposite: 0 - Identical: 0 - Similar: 849
Like this

guide?Pledge to support Swtorista videos, guides and lists!
✚ Support with Patreon
✚ Support with YouTube
✚ Support with Twitch
In return, get:
Discord Chat
50+ Lore Audio Readings
Ensure future of guides!