Have a suggestion or correction? Go to the Swtorista Website Discord and post your report in the #armor channel. You will need to make a free Discord account.
Identical Armor Sets
These armors are extremely similar, or identical, to the Defiant Onslaught MK-16 (Armormech) armor set.
Defiant Mender MK-16 (Armormech)
Crafting Armormech Crew Skills Trainer Armors
These armors are obtained in similar ways.
Terenthium Asylum
Mullinine Asylum
Xonolite Asylum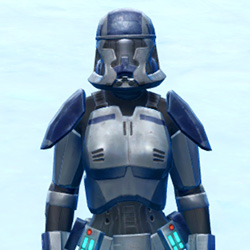 Titanium Asylum
Quadranium Asylum
Ciridium Asylum
Frasium Asylum
Trimantium Asylum
Vandinite Asylum
Hadrium Asylum
Terenthium Onslaught
Mullinine Onslaught
Xonolite Onslaught
Titanium Onslaught
Quadranium Onslaught
Ciridium Onslaught
Frasium Onslaught
Trimantium Onslaught
Vandinite Onslaught
Hadrium Onslaught
Terenthium Onslaught
Mullinine Onslaught
Xonolite Onslaught
Titanium Onslaught
Quadranium Onslaught
Ciridium Onslaught
Frasium Onslaught
Trimantium Onslaught
Vandinite Onslaught
Terenthium Asylum
Mullinine Asylum
Xonolite Asylum
Titanium Asylum
Quadranium Asylum
Ciridium Asylum
Frasium Asylum
Trimantium Asylum
Vandinite Asylum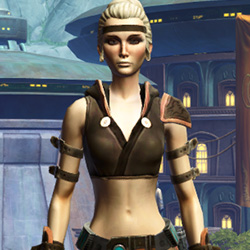 Shadowsilk Aegis
Lashaa Aegis
Dramassian Aegis
Septsilk Aegis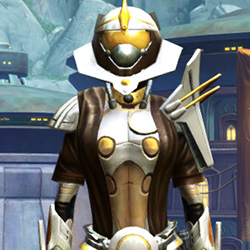 Charged Hypercloth Force Expert's
Shadowsilk Aegis
Lashaa Aegis
Dramassian Aegis
Septsilk Aegis
Defiant Asylum MK-16 (Armormech)
Defiant Mender MK-16 (Armormech)
Veda Cloth Body Armor
Veda Cloth Vestments
War-Forged MK-2 (Armormech)
War-Forged MK-0 (Armormech)
More Smuggler Armors
Eternal Battler Targeter
Citadel Targeter
Battlemaster Enforcer
Daring Rogue's
Trade Envoy's
Hazardous Physician
Eternal Commander MK-3 Combat Medic
Devious Outlaw
Pit Screamer
Arkan's
Wayward Voyager
Laminoid Battle
More Smuggler Armors
More Black Armors
Sith Cultist's
Revanite Vindicator's
Fortified Lacqerous
Taskmaster
Revanite Pursuer
Enforcer's Eyeguard
Experimental Ossan Force-Master's
Tribal Champion
Darth Sion's
Consular
War Hero Vindicator
Hoth Warrior
More Black Armors
Outfit Database ID: 1930 - Added: 0000-00-00 00:00:00 - Opposite: 0 - Identical: 0 - Similar: 0