Have a suggestion or correction? A volunteer can help update the website! To report an issue, go to the Swtorista Website Discord and post your report as a single message in the #report-issue channel. You will need to make a free Discord account.
Similar Armor Sets
These armors have a very similar shape to the Troublemaker armor set.
Subversive
Taskmaster's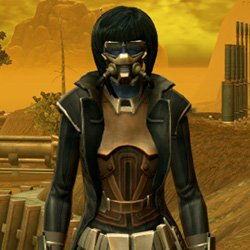 TD-07A Scorpion
Titanium Onslaught
Lone-Wolf
More Imperial Agent Armors
Battlemaster Enforcer
Remnant Dreadguard Agent
Plasteel Battle
Tactician
Wayward Voyager
Security Soldier's
Agile Reconnaissance's
Deep Cover Operative's
Laminoid Battle
Agent
Sniper
Scout
More Imperial Agent Armors
More Trenchcoat Armors
Renowned Duelist
Gunslinger Elite
Outlander Observer's
Emergency Responder's Overcoat
Forest Scout
Avenger
Polyplast Battle
TD-07A Blackguard
Intelligence Agent's
Thul Statesman's
The Final Breath
Nightlife Operative's
More Trenchcoat Armors
More Black Armors
Battlemaster Weaponmaster
Malak's Shadow
Empowered Restorer
War Hero Force-Master
Covert Pilot Suit
Descent of the Fearless
Brutal Executioner
Sith Cultist's
Frenzied Instigator
Calculated Mercenary's
Nathema Zealot's Robes
Eternal Battler Targeter
More Black Armors
More Light Pants Armors
Dark Seeker's
Defiant Asylum MK-16 (Synthweaving)
Republic Trooper
War-Forged MK-0 (Synthweaving)
Outlaw's
Nimble Brawler's
Classic Despot's
War Hero Enforcer
Thermal Retention
War Hero Eliminator (Rep)
War Hero Survivor (Rep)
Imperial Admiral's
More Light Pants Armors
Outfit Database ID: 1195 - Added: 0000-00-00 00:00:00 - Opposite: 0 - Identical: 0 - Similar: 1502
Like this

guide?Pledge to support Swtorista videos, guides and lists!
✚ Support with Patreon
✚ Support with YouTube
✚ Support with Twitch
In return, get:
Discord Chat
50+ Lore Audio Readings
Ensure future of guides!