Have a suggestion or correction? Go to the Swtorista Website Discord and post your report in the #armor channel. You will need to make a free Discord account.
Identical Armor Sets
These armors are extremely similar, or identical, to the Defiant Onslaught MK-16 (Synthweaving) armor set.
Defiant Mender MK-16 (Synthweaving)
Crafting Synthweaving Crew Skills Trainer Armors
These armors are obtained in similar ways.
Shadowsilk Force Expert's
Lashaa Force Expert's
Dramassian Force Expert's
Septsilk Force Expert's
Vine-silk Force Expert's
Vine-silk Aegis
Nanosilk Force Expert's
Nanosilk Aegis
Hypercloth Force Expert's
Hypercloth Aegis
Veda Force Expert's
Veda Aegis
Charged Hypercloth Aegis
Romex Force Expert's
Romex Aegis
Shadowsilk Force Expert's
Lashaa Force Expert's
Dramassian Force Expert's
Septsilk Force Expert's
Vine-silk Force Expert's
Vine-silk Aegis
Nanosilk Force Expert's
Nanosilk Aegis
Hypercloth Force Expert's
Hypercloth Aegis
Veda Force Expert's
Veda Aegis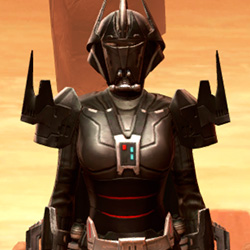 Charged Hypercloth Aegis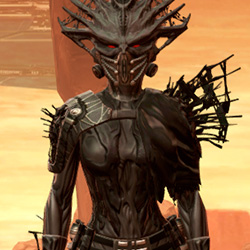 Charged Hypercloth Force Expert's
Defiant Asylum MK-16 (Synthweaving)
Defiant Mender MK-16 (Synthweaving)
Trimantium Body Armor
Trimantium Jacket
War-Forged MK-0 (Synthweaving)
More Smuggler Armors
Escape Artists
Eternal Commander MK-3 Force-Mystic
Laminoid Battle
Wild Smuggler
Remnant Resurrected Smuggler
Defiant Onslaught MK-26 (Armormech) (Republic)
Dune Stalker
Battle-Hardened Apprentice's
Hoth Smuggler
Agile Sharpshooter
Iokath MK-5 Combat Tech
Unfettered Trench Coat
More Smuggler Armors
More Brown Armors
Eternal Conqueror Bulwark
Triumphant Predator's
Sith Dueling
Resilient Polyplast
Onderonian Guard
Contract Hunter (alternate)
Humble Hero
Battlemaster Enforcer
Eternal Commander MK-3 Weaponmaster
Saber Master
Fortified Electrum
Valiant Jedi
More Brown Armors
Outfit Database ID: 1939 - Added: 0000-00-00 00:00:00 - Opposite: 0 - Identical: 0 - Similar: 0