Have a suggestion or correction? Go to the Swtorista Website Discord and post your report in the #armor channel. You will need to make a free Discord account.
Identical Armor Sets
These armors are extremely similar, or identical, to the Veda Aegis armor set.
Veda Force Expert's
Crafting Synthweaving Crew Skills Trainer Armors
These armors are obtained in similar ways.
Shadowsilk Force Expert's
Lashaa Force Expert's
Dramassian Force Expert's
Septsilk Force Expert's
Vine-silk Force Expert's
Vine-silk Aegis
Nanosilk Force Expert's
Nanosilk Aegis
Hypercloth Force Expert's
Hypercloth Aegis
Veda Force Expert's
Veda Aegis
Charged Hypercloth Aegis
Romex Force Expert's
Romex Aegis
Shadowsilk Force Expert's
Lashaa Force Expert's
Dramassian Force Expert's
Septsilk Force Expert's
Vine-silk Force Expert's
Vine-silk Aegis
Nanosilk Force Expert's
Nanosilk Aegis
Hypercloth Force Expert's
Hypercloth Aegis
Veda Aegis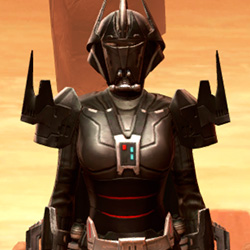 Charged Hypercloth Aegis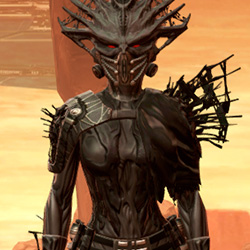 Charged Hypercloth Force Expert's
Defiant Asylum MK-16 (Synthweaving)
Defiant Mender MK-16 (Synthweaving)
Defiant Onslaught MK-16 (Synthweaving)
Trimantium Body Armor
Trimantium Jacket
War-Forged MK-0 (Synthweaving)
More Sith Warrior Armors
Enhanced Assailant's
Darth Skotia's
Thexan's
Crimson Talon
Remulus Dreypa's
Sith Archon
War Hero Weaponmaster (Rated)
Frenzied Zealot
Iokath Annihilator
Sith Dueling
Orbalisk
Resilient Warden
More Sith Warrior Armors
More Sith Inquisitor Armors
Crimson Talon
Inquisitor's Renowned
Shadow Disciple's
War Hero Survivor
Armor of Darth Revan
Dire Taskmaster's Robe
Tarisian Inquisitor
Dread Harbinger
Exarch Onslaught MK-26 (Armormech)
Ancient Infernal
Tormented
Omniscient Master
More Sith Inquisitor Armors
More Red Armors
Underworld Enforcer
Cunning Vigilante
Rakata Targeter (Republic)
Hadrium Onslaught
Omniscient Master
Laminoid Battle
Ubrikkian Industries Corporate
Freedon Nadd's
Fancy Reveler
Battlemaster Force-Mystic
Devious Outlaw
Spectre's
More Red Armors
Outfit Database ID: 1554 - Added: 0000-00-00 00:00:00 - Opposite: 1534 - Identical: 0 - Similar: 0