Have a suggestion or correction? Go to the Swtorista Website Discord and post your report in the #armor channel. You will need to make a free Discord account.
Similar Armor Sets
These armors have a very similar shape to the Mullinine Onslaught armor set.
Gunslinger Elite
Sniper
Crafting Armormech Crew Skills Trainer Armors
These armors are obtained in similar ways.
Terenthium Asylum
Mullinine Asylum
Xonolite Asylum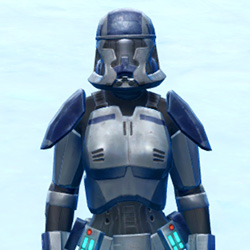 Titanium Asylum
Quadranium Asylum
Ciridium Asylum
Frasium Asylum
Trimantium Asylum
Vandinite Asylum
Hadrium Asylum
Terenthium Onslaught
Mullinine Onslaught
Xonolite Onslaught
Titanium Onslaught
Quadranium Onslaught
Ciridium Onslaught
Frasium Onslaught
Trimantium Onslaught
Vandinite Onslaught
Hadrium Onslaught
Terenthium Onslaught
Xonolite Onslaught
Titanium Onslaught
Quadranium Onslaught
Ciridium Onslaught
Frasium Onslaught
Trimantium Onslaught
Vandinite Onslaught
Terenthium Asylum
Mullinine Asylum
Xonolite Asylum
Titanium Asylum
Quadranium Asylum
Ciridium Asylum
Frasium Asylum
Trimantium Asylum
Vandinite Asylum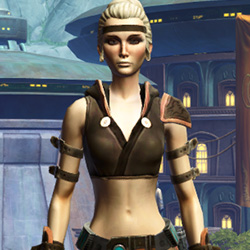 Shadowsilk Aegis
Lashaa Aegis
Dramassian Aegis
Septsilk Aegis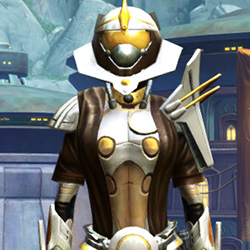 Charged Hypercloth Force Expert's
Shadowsilk Aegis
Lashaa Aegis
Dramassian Aegis
Septsilk Aegis
Defiant Asylum MK-16 (Armormech)
Defiant Mender MK-16 (Armormech)
Defiant Onslaught MK-16 (Armormech)
Veda Cloth Body Armor
Veda Cloth Vestments
War-Forged MK-2 (Armormech)
War-Forged MK-0 (Armormech)
More Imperial Agent Armors
Sniper Elite
Herald of Zildrog
Battlemaster Enforcer
Enhanced Surveillance
Trade Envoy's
Fortified Lacqerous
Experimental Ossan Enforcer's
Agent's Exalted
Recon Spotter
Balmorran Agent
Defiant Onslaught MK-26 (Armormech) (Imperial)
Elite Tactician
More Imperial Agent Armors
More Uniform Armors
Formal Militant
Security Chief's
Exquisite Formal
Elite Tactician
Remnant Yavin Agent
Intelligence Officer
Hooligan
Imperial Admiral's
Confiscated Mercenary
Republic Huttball Away Uniform
Intelligence Agent's
Saul Karath's
More Uniform Armors
More Captains Hat Armors
Ubrikkian Industries Corporate
Classic Spymaster's Auxiliary
TD-07A Panther
Hooligan
Confiscated Mercenary
Hutta Agent
Forest Scout
Covert Cipher
Fieldtech Operator's
Kuat Drive Yards Corporate
Formal Militant
Hoth Agent
More Captains Hat Armors
More Light Jacket Armors
Cunning Vigilante
Hardweave
Warrior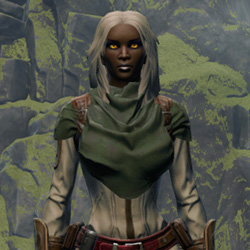 Zayne Carrick's
Shrewd Privateer
Spec Ops
Huttsbane's Garments
Balmorran Resistance
Drelliad
Mantellian Privateer
Smuggler's Exalted
Outrider's Flight Jacket
More Light Jacket Armors
More Black Armors
Classic Despot's
Revanite Pursuer
Fortified Lacqerous
Nathema Zealot's Robes
Sith Annihilator
Tattered Ritualist's Cowled
Red Scalene
Nightlife Socialite
Tatooinian Inquisitor
Preceptor's
Darth Malgus's
Remnant Resurrected Bounty Hunter
More Black Armors
Outfit Database ID: 1500 - Added: 0000-00-00 00:00:00 - Opposite: 1490 - Identical: 0 - Similar: 1500