Have a suggestion or correction? A volunteer can help update the website! To report an issue, go to the Swtorista Website Discord and post your report as a single message in the #report-issue channel. You will need to make a free Discord account.
Similar Armor Sets
These armors have a very similar shape to the Republic Huttball Away Uniform armor set.
Frogdog Huttball Away Uniform
Frogdog Huttball Home Uniform
Imperial Huttball Away Uniform
Imperial Huttball Home Uniform
Republic Huttball Home Uniform
Rotworm Huttball Away Uniform
More Huttball Armors
Republic Practice Jersey
Rotworm Practice Jersey
Rotworm Huttball Home Uniform
Frogdog Practice Jersey
Imperial Practice Jersey
More Plated Leg Armor Armors
Commander Vizla's
Exarch Onslaught MK-26 (Armormech)
War Hero Eliminator (Rated)
Unburdened Champion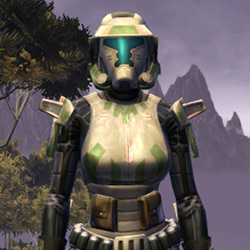 Electrum Onslaught
Wastelander's
Phobium Onslaught
Organa Loyalist's
Ruthless Commander
Tempest Warden
Battlemaster Eliminator
Unbreakable Veteran's
More Plated Leg Armor Armors
More Blue Armors
Matriarchal
Regal Apparel
War Hero Vindicator
Fortified Defender
Hyperspace Hotshot
Voss Ambassador
GSI Infiltration
Woads Instinct
RD-07A Viper
Elite Regulator
Rugged Infantry
Righteous Mystic
More Blue Armors
Outfit Database ID: 1089 - Added: 0000-00-00 00:00:00 - Opposite: 0 - Identical: 0 - Similar: 1111
Like this

guide?Pledge to support Swtorista videos, guides and lists!
✚ Support with Patreon
✚ Support with YouTube
✚ Support with Twitch
In return, get:
Discord Chat
50+ Lore Audio Readings
Ensure future of guides!