Have a suggestion or correction? Go to the Swtorista Website Discord and post your report in the #armor channel. You will need to make a free Discord account.
Similar Armor Sets
These armors have a very similar shape to the Frasium Asylum armor set.
Mandalorian Clansman's
Trimantium Asylum
Notorious
Crafting Armormech Crew Skills Trainer Armors
These armors are obtained in similar ways.
Terenthium Asylum
Mullinine Asylum
Xonolite Asylum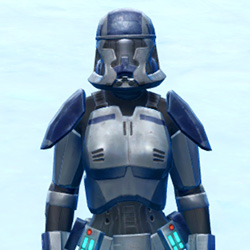 Titanium Asylum
Quadranium Asylum
Ciridium Asylum
Frasium Asylum
Trimantium Asylum
Vandinite Asylum
Hadrium Asylum
Terenthium Onslaught
Mullinine Onslaught
Xonolite Onslaught
Titanium Onslaught
Quadranium Onslaught
Ciridium Onslaught
Frasium Onslaught
Trimantium Onslaught
Vandinite Onslaught
Hadrium Onslaught
Terenthium Onslaught
Mullinine Onslaught
Xonolite Onslaught
Titanium Onslaught
Quadranium Onslaught
Ciridium Onslaught
Frasium Onslaught
Trimantium Onslaught
Vandinite Onslaught
Terenthium Asylum
Mullinine Asylum
Xonolite Asylum
Titanium Asylum
Quadranium Asylum
Ciridium Asylum
Vandinite Asylum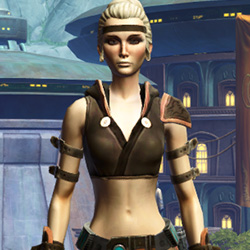 Shadowsilk Aegis
Lashaa Aegis
Dramassian Aegis
Septsilk Aegis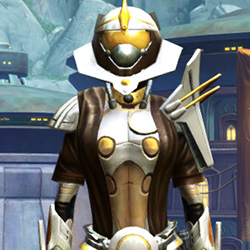 Charged Hypercloth Force Expert's
Shadowsilk Aegis
Lashaa Aegis
Dramassian Aegis
Septsilk Aegis
Defiant Asylum MK-16 (Armormech)
Defiant Mender MK-16 (Armormech)
Defiant Onslaught MK-16 (Armormech)
Veda Cloth Body Armor
Veda Cloth Vestments
War-Forged MK-2 (Armormech)
War-Forged MK-0 (Armormech)
More Bounty Hunter Armors
Mercenary
Defiant Asylum MK-26 (Armormech) (Imperial)
TT-17A Hydra
Belsavis Bounty Hunter
Dark Legionnaire's
War Hero Combat Medic (Rated)
Chanlon Onslaught
Battlemaster Combat Tech
Revealing Bodysuit
Infamous Bounty Hunter
Nar Shaddaa Bounty Hunter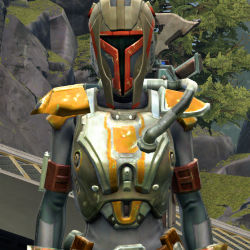 Apex Predator
More Bounty Hunter Armors
More Plated Leg Armor Armors
Hypercloth Force Expert's
Darth Skotia's
Underworld Anarchist's
Tionese Demolisher (Republic)
Imperial Huttball Home Uniform
Outer Rim Hunter's
Imperial Reaper
Righteous Enforcer
Onderon Guardian
War Hero War Leader (Rated)
Callous Conqueror
Forward Recon
More Plated Leg Armor Armors
More Yellow Armors
Thyrsian
Thyrsian Fitted (Dyeable)
Bionic Warrior's
Frontline Slicer
Frogdog Practice Jersey
Preserver
Powered Exoguard
War Hero Combat Tech (Rated)
Remnant Arkanian Knight
Overwatch Enforcer's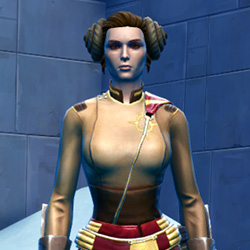 Corellian Councillor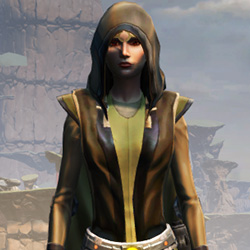 Sentinel's Renowned
More Yellow Armors
Outfit Database ID: 1515 - Added: 0000-00-00 00:00:00 - Opposite: 1485 - Identical: 0 - Similar: 1516