Have a suggestion or correction? A volunteer can help update the website! To report an issue, go to the Swtorista Website Discord and post your report as a single message in the #report-issue channel. You will need to make a free Discord account.
Similar Armor Sets
These armors have a very similar shape to the Inscrutable Pursuer's armor set.
Duststorm Survivor's
More Bounty Hunter Armors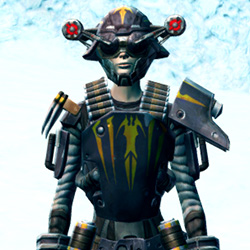 Frontline Mercenary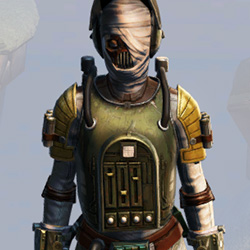 Remnant Underworld Bounty Hunter
Plastiplate (Imperial)
Silent Ghost's
Defiant Asylum MK-26 (Armormech) (Imperial)
Madilon Asylum
Coil Explorer's
Relentless Hunter's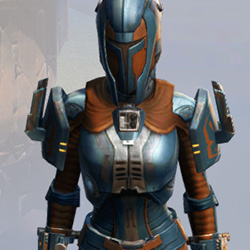 Remnant Yavin Bounty Hunter
Outer Rim Hunter's
Contract Hunter (alternate)
Eternal Battler Demolisher
More Bounty Hunter Armors
More Blue Armors
Mandalorian Hunter
Lashaa Force Expert's
Polyplast Ultramesh
Righteous Enforcer
Remnant Yavin Agent
Horizon's Razor
GSI Tactical
Special Forces
GSI Infiltration
Resilient Warden
Section Guardian
Traditional Nylite
More Blue Armors
More Purple Armors
Imperial Advisor's
Stylish Dress
Midnight Racer's
Savage Despot
Energized Manhunter
Dire Overlord's Vestments
Feast Trader
Traditional Brocart
Dynamic Sleuth
Lacqerous Battle
War Hero Force-Master (Rated)
Agent's Exalted
More Purple Armors
More Light Pants Armors
Eternal Commander MK-3 Combat Medic
Iokath Technographer
Rakata Eliminator (Rep)
Ulgo Statesman's
Jedi Strategist's
Quadranium Onslaught
Defiant Asylum MK-16 (Armormech)
Classic Spymaster's Auxiliary
Campaign Supercommando (Rep)
Agent
B-100 Cybernetic
RD-07A Viper
More Light Pants Armors
Outfit Database ID: 971 - Added: 0000-00-00 00:00:00 - Opposite: 0 - Identical: 0 - Similar: 874
Like this

guide?Pledge to support Swtorista videos, guides and lists!
✚ Support with Patreon
✚ Support with YouTube
✚ Support with Twitch
In return, get:
Discord Chat
50+ Lore Audio Readings
Ensure future of guides!