Have a suggestion or correction? A volunteer can help update the website! To report an issue, go to the Swtorista Website Discord and post your report as a single message in the #report-issue channel. You will need to make a free Discord account.
Similar Armor Sets
These armors have a very similar shape to the Escape Artists armor set.
Remnant Underworld Smuggler
Crafting Armormech Set Bonus Schematics Armors
These armors are obtained in similar ways.
Woads Instinct
More Smuggler Armors
Xonolite Onslaught
Dust Viper Bandit's
The Slow Road
Arkan's
War Hero Enforcer
Lone-Wolf
Pit Screamer
Calo Nord's
Dune Stalker
Eternal Commander MK-15 Force-master
Star Forager
Opportunistic Rogue's
More Smuggler Armors
More Animated Armors
Precise Targeter
Energetic Combatant
Energetic Champion
Agile Sentinel's
Dynamic Brawler's
Hoth Defender's
Overloaded Interrogator
Seasoned Professional's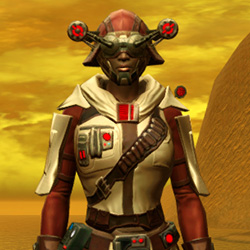 Galvanized Manhunter
Dynamic Sleuth
Voltaic Sleuth
Galvanized Infantry
More Animated Armors
More Redpants Armors
Tactician
Debilitator
War Hero Survivor (Rated)
Eternal Conqueror Boltblaster
Precise Targeter
War Hero Stalker (Rated)
War Hero Supercommando (Rated)
Right Price
Madilon Onslaught
More Light Pants Armors
Iokath MK-5 Combat Medic
War Hero Stalker (Rated)
Reinforced Chanlon
Revered Huntmaster's
Outrider's Flight Jacket
Veda Force Expert's
Campaign Combat Tech (Rep)
Hunter's Renowned
Bionic Raider
Czerka Security
Exiled Revolutionary's
Iokath MK-5 Eliminator
More Light Pants Armors
Outfit Database ID: 2157 - Added: 0000-00-00 00:00:00 - Opposite: 0 - Identical: 1810 - Similar: 1322
Like this

guide?Pledge to support Swtorista videos, guides and lists!
✚ Support with Patreon
✚ Support with YouTube
✚ Support with Twitch
In return, get:
Discord Chat
50+ Lore Audio Readings
Ensure future of guides!