Have a suggestion or correction? Go to the Swtorista Website Discord and post your report in the #armor channel. You will need to make a free Discord account.
Similar Armor Sets
These armors have a very similar shape to the Ottegan Force Expert armor set.
Ceremonial
Matriarchal
Majestic Augur
Crafting Synthweaving Reverse Engineer Armors
These armors are obtained in similar ways.
Rodian Flame Force Expert
Saava Force Expert
Dreamsilk Aegis Vestments
Dreamsilk Force Expert
Ottegan Aegis
Rodian Flame Force Expert
Ottegan Force Expert
Saava Force Expert
Ottegan Aegis
Defiant Asylum MK-26 (Synthweaving) (Imperial)
Defiant Mender MK-26 (Synthweaving) (Imperial)
Defiant Onslaught MK-26 (Synthweaving) (Imperial)
Exarch Asylum MK-26 (Synthweaving)
Exarch Mender MK-26 (Synthweaving)
Exarch Onslaught MK-26 (Synthweaving)
War-Forged MK-3 (Synthweaving)
War-Forged MK-2 (Synthweaving)
Defiant Mender MK-26 (Synthweaving) (Republic)
Defiant Onslaught MK-26 (Synthweaving) (Republic)
Defiant Asylum MK-26 (Synthweaving) (Republic)
Nanite Threaded Force Expert's
Killik-silk Aegis
Nanite Threaded Force Expert's
More Jedi Consular Armors
Belsavis Consular
Balmorran Consular
Alderaanian Consular
Force Magister
Corellian Consular
Septsilk Aegis
Aggressive Treatment
Ulic Qel-Droma's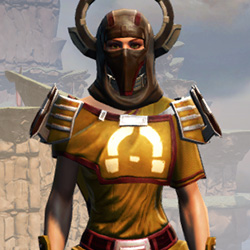 War Hero Force-Master (Rated)
Jedi Knight Revan
The Unyielding Protector
Dashing Hero's
More Jedi Consular Armors
More Fancy Hat Armors
Rakata Force-Lord (Republic)
Elegant Loungewear
Force Magister
Regal Apparel
Reveler's Finery
Noble Commander's
Elegant
Efficient Termination
Visas Marr's
Shikaakwan Royalty's
Cunning Statesman's
Hoth Consular
More Fancy Hat Armors
More White Armors
Eternal Commander MK-15 Weaponmaster
Belsavis Trooper
Acolyte
Trimantium Onslaught
Balmorran Trooper
Reclusive Master's
Eternal Battler Force-Lord
Overwatch Shield
Nar Shaddaa Trooper
Jarael's
Arctic Trooper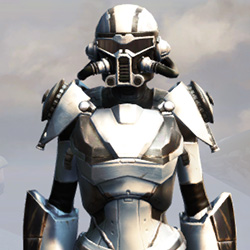 Remnant Dreadguard Trooper
More White Armors
Outfit Database ID: 1919 - Added: 0000-00-00 00:00:00 - Opposite: 1925 - Identical: 0 - Similar: 807