Have a suggestion or correction? A volunteer can help update the website! To report an issue, go to the Swtorista Website Discord and post your report as a single message in the #report-issue channel. You will need to make a free Discord account.
Similar Armor Sets
These armors have a very similar shape to the Duststorm Survivor's armor set.
Inscrutable Pursuer's
More Environment Armors
Ubrikkian Industries Corporate
THORN Containment
Badlands Renegade
Outlander Patroller's
Arctic Scout's
Balmorran Resistance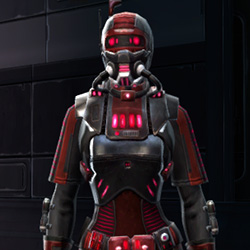 THORN Sanitization
Death Claw
Outlander Fixer's
Imperial Field Agent's
Skiff Guard's
Mantellian Separatist
More Environment Armors
More Goggles Armors
Ardent Warden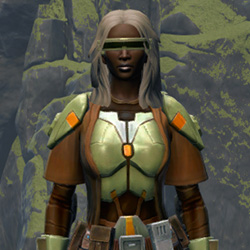 Jedi Stormguard
Remnant Arkanian Knight
Veda Force Expert's
Mullinine Asylum
War Hero Field Medic (Rated)
Hutt Cartel
Eternal Battler Mender
War Hero Enforcer (Rated)
Guardian's Exalted
Frasium Onslaught
Black Vulkar Swooper
More Goggles Armors
More Light Jacket Armors
Classic Phantom
RD-07A Spider
Huttsbane's Garments
Casual Vandal
Gunslinger
Mantellian Privateer
Hoth Ranger's
Revered Chronicler's
Warrior
Outer Rim Gunslinger's
Frasium Onslaught
Scout
More Light Jacket Armors
More Gray Armors
Intelligence Officer
Infamous Bounty Hunter
Eternal Commander MK-3 Warleader
Resilient Lacqerous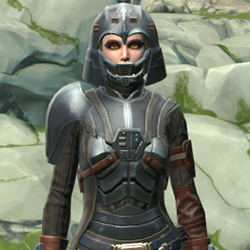 Distinguished Warden's
Nerf-Herder
Agile Sharpshooter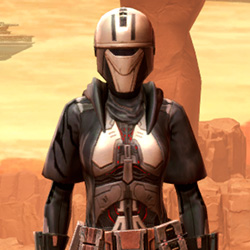 Reinforced Phobium
Deep Cover Operative's
Imperial Huttball Away Uniform
Series 858 Cybernetic Armor
Mandalorian Seeker
More Gray Armors
More Light Pants Armors
Eternal Brawler Pummeler's
Sith Annihilator
Brutal Executioner
Charismatic Mandalorian's
Eternal Battler Pummeler
Tormented
Righteous Mystic
Imperial Bastion's
War Hero Survivor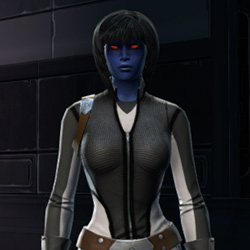 RV-03 Speedsuit
Dust Viper Bandit's
Ciridium Onslaught
More Light Pants Armors
Outfit Database ID: 874 - Added: 0000-00-00 00:00:00 - Opposite: 0 - Identical: 0 - Similar: 874
Like this

guide?Pledge to support Swtorista videos, guides and lists!
✚ Support with Patreon
✚ Support with YouTube
✚ Support with Twitch
In return, get:
Discord Chat
50+ Lore Audio Readings
Ensure future of guides!