Have a suggestion or correction? A volunteer can help update the website! To report an issue, go to the Swtorista Website Discord and post your report as a single message in the #report-issue channel. You will need to make a free Discord account.
Similar Armor Sets
These armors have a very similar shape to the Duststorm Survivor's armor set.
Inscrutable Pursuer's
More Environment Armors
Wasteland Raider's
Relentless Insurgent's
J-34 Biocontainment
Death Claw
Imperial Field Agent's
Guerrilla Tactician's
Underwater Explorer
Outlander Maverick's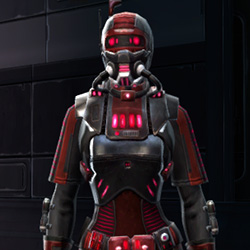 THORN Sanitization
Diligent Engineer's
Midnight Racer's
Outlander Patroller's
More Environment Armors
More Goggles Armors
Rim Runner
Lone-Wolf
Voltaic Vandal
Shrewd Privateer
Nova Blade Gunner
CorSec
Plasteel Battle
Interceptor
Repositioning
Intelligence Officer
War Hero Enforcer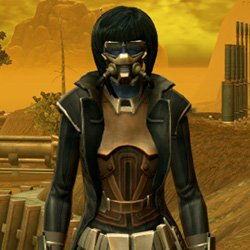 TD-07A Scorpion
More Goggles Armors
More Light Jacket Armors
Shrewd Privateer
Trainee
Frasium Onslaught
Remnant Arkanian Agent
Remnant Yavin Smuggler
Hadrium Onslaught
Laminoid Battle
Revered Chronicler's
Daring Rogue's
Mantellian Privateer
Battle-Hardened Apprentice's
Hardened Plastifold
More Light Jacket Armors
More Gray Armors
Series 858 Cybernetic Armor
Ablative Laminoid
CZ-13K Guerrilla
Trailblazer's
Reconstructed Apprentice
Agent's Exalted
Holoshield Trooper
Resilient Lacqerous
B-400 Cybernetic
Street
Timberland Scout
Amended Mystic's
More Gray Armors
More Light Pants Armors
Powered Exoguard
War Hero Force-Master
Frenzied Warrior's
Repositioning
Trooper's Renowned
Ciridium Onslaught
Battlefield Technician's
Terenthium Asylum
Vintage Republic Military
Squadron Ace's
Contraband Runner
Remnant Arkanian Knight
More Light Pants Armors
Outfit Database ID: 874 - Added: 0000-00-00 00:00:00 - Opposite: 0 - Identical: 0 - Similar: 874
Like this

guide?Pledge to support Swtorista videos, guides and lists!
✚ Support with Patreon
✚ Support with YouTube
✚ Support with Twitch
In return, get:
Discord Chat
50+ Lore Audio Readings
Ensure future of guides!