Have a suggestion or correction? A volunteer can help update the website! To report an issue, go to the Swtorista Website Discord and post your report as a single message in the #report-issue channel. You will need to make a free Discord account.
Similar Armor Sets
These armors have a very similar shape to the Underworld Instigator's armor set.
Dynamic Sleuth
Outlander Patroller's
Overwatch Officer
Voltaic Sleuth
Agent's Exalted
Bounty Tracker
Polyplast Battle
Quadranium Onslaught
Agile Sharpshooter
More Imperial Agent Armors
Laminoid Battle
CZ-27K Stealth Ops Suit
Covert Cipher
Silent Ghost's
Xonolite Onslaught
Outlaw's
Exarch Mender MK-26 (Armormech)
Stalker's
Trade Envoy's
Spec Ops
Probe Tech
Casual Connoisseur's
More Imperial Agent Armors
More Black Armors
Concealed Bodysuit
Terenthium Onslaught
Eternal Battler Mender
Exterminator's
Thexan's
Remnant Resurrected Warrior
Subversive
Defiant Onslaught MK-16 (Armormech)
Gathering Storm
Enhanced Surveillance
Eternal Battler Med-Tech
Taskmaster
More Black Armors
More Light Pants Armors
Remnant Arkanian Agent
Zakuulan Security's
Citadel Pummeler
Relaxed Jumpsuit
Duststorm Survivor's
Lashaa Aegis
War-Forged MK-0 (Armormech)
Hardened Plastifold
Voidmaster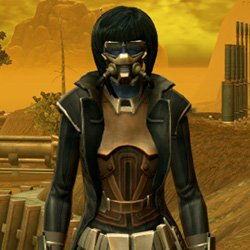 TD-07A Scorpion
Campaign Combat Tech (Rep)
Port Nowhere Mobster's
More Light Pants Armors
Outfit Database ID: 1209 - Added: 0000-00-00 00:00:00 - Opposite: 0 - Identical: 0 - Similar: 877
Like this

guide?Pledge to support Swtorista videos, guides and lists!
✚ Support with Patreon
✚ Support with YouTube
✚ Support with Twitch
In return, get:
Discord Chat
50+ Lore Audio Readings
Ensure future of guides!