Have a suggestion or correction? A volunteer can help update the website! To report an issue, go to the Swtorista Website Discord and post your report as a single message in the #report-issue channel. You will need to make a free Discord account.
Similar Armor Sets
These armors have a very similar shape to the Havoc Squad Specialist's armor set.
Crimson Raider's
More Trooper Armors
Squad Leader
Outer Rim Officer
Terenthium Asylum
Tempered Laminoid
Minimalist Gladiator Chestguard
Phobium Onslaught
Battlefield Technician's
Battlemaster Combat Medic
Tactical Infantry
Warstorm Veteran's
Citadel Med-tech
TD-17A Talon
More Trooper Armors
More Swtor Armors
Exiled Revolutionary's
Shae Vizla's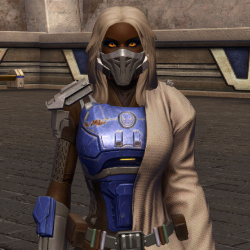 Tau Idair
Relnex's
Lana Beniko's
Commander Vizla's
Revan Reborn
Herald of Zildrog
Darth Skotia's
Sogan Sur's
Dark Advisor's
Theron Shan's
More Swtor Armors
More Plated Leg Armor Armors
Diatium Onslaught
Eternal Brawler Boltblaster's
Ardent Warden
Veda Force Expert's
Battlemaster Combat Tech
Trooper's Exalted
Classic Forward Recon
War Hero Combat Tech (Rated)
Exar Kun's
Tempered Laminoid
Ciridium Asylum
GSI Tactical
More Plated Leg Armor Armors
More Green Armors
THORN Dark Vector (Green)
Tranquil Mystic's
Badlands Renegade
Smuggler's Exalted
Citadel Boltblaster
Wartime Ambassador's
Synthetic Bio-Fiber
Hunter's Exalted
Concealed Hunter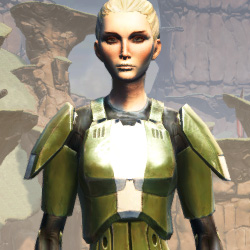 MA-35 Forward Ops Chestplate
Smuggler's Renowned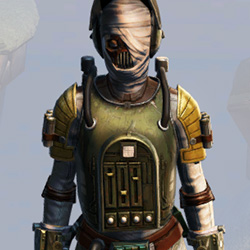 Remnant Underworld Bounty Hunter
More Green Armors
Outfit Database ID: 948 - Added: 0000-00-00 00:00:00 - Opposite: 0 - Identical: 0 - Similar: 948
Like this

guide?Pledge to support Swtorista videos, guides and lists!
✚ Support with Patreon
✚ Support with YouTube
✚ Support with Twitch
In return, get:
Discord Chat
50+ Lore Audio Readings
Ensure future of guides!