Have a suggestion or correction? A volunteer can help update the website! To report an issue, go to the Swtorista Website Discord and post your report as a single message in the #report-issue channel. You will need to make a free Discord account.
Similar Armor Sets
These armors have a very similar shape to the Guard Captain's Chestplate armor set.
CZ-18X Avalanche Chestplate
Hunter's Exalted
TT-17A Hydra
Electrum Onslaught
Quadranium Asylum
More Bounty Hunter Armors
Inscrutable Pursuer's
Charismatic Mandalorian's
Crimson Raider's
Trimantium Asylum
Frasium Asylum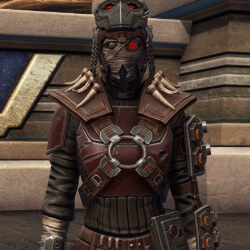 Furious Gladiator
Vandinite Asylum
Hydraulic Press
Dark Legionnaire's
Heartless Pursuer
Remnant Arkanian Bounty Hunter
Eternal Conqueror Boltblaster
More Bounty Hunter Armors
More Blue Armors
Zakuulan Security's
Security Soldier's
Arkan's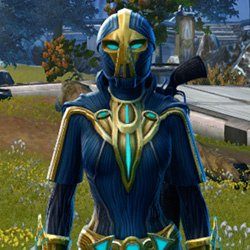 Righteous Harbinger
Citadel Targeter
Civilian Pilot
Horizon's Razor
Formal Tuxedo
Smuggler's Exalted
War-Forged MK-3 (Synthweaving)
Shadow Purger
Aggressive Treatment
More Blue Armors
More Green Armors
Hunter's Renowned
Trooper's Exalted
Subversive
Efficient Termination
Citadel Boltblaster
Quick Thinker
Quadranium Onslaught
Czerka Corporate Shirt
Mandalorian Seeker
Havoc Squad Officer's
Lacqerous Mesh
Citadel Med-tech
More Green Armors
More Light Pants Armors
Titanium Onslaught
Zakuul Knight-Captain's
Columi Combat Medic (Rep)
Spec Ops
Forest Scout
Dynamic Sleuth
K-23 Hazmat
Defiant Mender MK-26 (Armormech) (Republic)
Tionese Combat Medic (Rep)
Black Hole Trapper (Rep)
Euphoric Corellian
Columi Vindicator (Rep)
More Light Pants Armors
Outfit Database ID: 944 - Added: 0000-00-00 00:00:00 - Opposite: 0 - Identical: 203 - Similar: 1452
Like this

guide?Pledge to support Swtorista videos, guides and lists!
✚ Support with Patreon
✚ Support with YouTube
✚ Support with Twitch
In return, get:
Discord Chat
50+ Lore Audio Readings
Ensure future of guides!