Have a suggestion or correction? A volunteer can help update the website! To report an issue, go to the Swtorista Website Discord and post your report as a single message in the #report-issue channel. You will need to make a free Discord account.
Similar Armor Sets
These armors have a very similar shape to the Exterminator's armor set.
Eradicator's Warsuit
Valiant Jedi
Eternal Brawler Pummeler's
More Sith Armors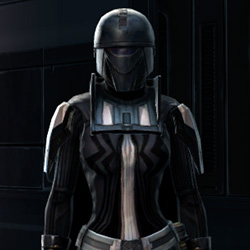 Marauder's Exalted
Dathomir Shaman's
Lashaa Force Expert's
Feral Visionary
Dread Harbinger
Hypercloth Force Expert's
Gathering Storm
Freedon Nadd's
Decelerator
Synthleather Jacket (Imperial)
The Undying
Exar Kun's
More Sith Armors
More Sith Warrior Armors
Dark Acolyte
Armored Interrogator
Marauder's Renowned
Chaotic Force-Master's
Initiate
Dire Warmaster's Body Armor
Nanosilk Aegis
Dark Seeker's
War Hero Vindicator
Remnant Resurrected Warrior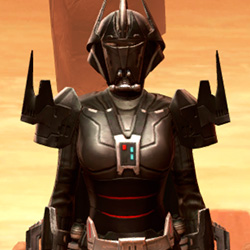 Charged Hypercloth Aegis
Frenzied Zealot
More Sith Warrior Armors
More Sith Inquisitor Armors
Remnant Resurrected Inquisitor
Dire Retaliation
Synthetic Bio-Fiber
Battlemaster Force-Master
Septsilk Aegis
Controller
Dathomir Shaman's
Endless Offensive
Tormented
Sovereign Executioner
Eradicator's Mask
Investigator's
More Sith Inquisitor Armors
More Black Armors
Zakuulan Inquisitor's
Descent of the Fearless
Battlemaster Field Medic
Perfect Form
Overwatch Sentry
Revan Reborn
The Undying
Peacekeeper
Traditional Nylite
Sith Recluse
Armor of Darth Revan
Confiscated Mercenary
More Black Armors
More Light Pants Armors
War Hero Field Tech
Tionese Vindicator (Imp)
Campaign Combat Tech (Rep)
Hazardous Physician
Rakata Eliminator (Rep)
Intimidator
Relaxed Uniform
War Hero Force-Master
Stalker's
War-Forged MK-2 (Synthweaving)
War Hero Survivor
Mullinine Asylum
More Light Pants Armors
Outfit Database ID: 911 - Added: 0000-00-00 00:00:00 - Opposite: 0 - Identical: 0 - Similar: 897
Like this

guide?Pledge to support Swtorista videos, guides and lists!
✚ Support with Patreon
✚ Support with YouTube
✚ Support with Twitch
In return, get:
Discord Chat
50+ Lore Audio Readings
Ensure future of guides!