Have a suggestion or correction? A volunteer can help update the website! To report an issue, go to the Swtorista Website Discord and post your report as a single message in the #report-issue channel. You will need to make a free Discord account.
Similar Armor Sets
These armors have a very similar shape to the Classic Phantom armor set.
Phantom
Spectre's
More Sith Inquisitor Armors
Septsilk Aegis
Battlemaster Force-Master
Controller
Traditional Demicot
Decelerator
Feral Visionary
Remnant Arkanian Inquisitor
Rodian Flame Force Expert
Death Knell
Chaotic Force-Master's
Dark Acolyte
Empowered Restorer
More Sith Inquisitor Armors
More Light Jacket Armors
Duststorm Survivor's
Smuggler's Exalted
Hadrium Asylum
Battle-Hardened Apprentice's
Mantellian Privateer
Theron Shan's
Outrider's Flight Jacket
Rugged Smuggling
Outer Rim Gunslinger's
RD-07A Spider
Xonolite Onslaught
Trainee
More Light Jacket Armors
More Black Armors
B-200 Cybernetic
Revanite Champion's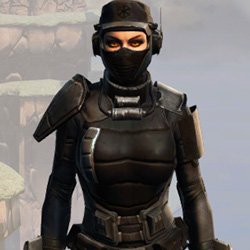 Remnant Resurrected Agent
Alliance Reconnaissance
Sith Annihilator
Trimantium Body Armor
War Hero War Leader
Defiant Onslaught MK-26 (Armormech) (Imperial)
Defiant Mender MK-16 (Synthweaving)
Battlemaster Vindicator
Scion
Battlemaster Combat Tech
More Black Armors
Outfit Database ID: 819 - Added: 0000-00-00 00:00:00 - Opposite: 0 - Identical: 0 - Similar: 1059
Like this

guide?Pledge to support Swtorista videos, guides and lists!
✚ Support with Patreon
✚ Support with YouTube
✚ Support with Twitch
In return, get:
Discord Chat
50+ Lore Audio Readings
Ensure future of guides!