Have a suggestion or correction? A volunteer can help update the website! To report an issue, go to the Swtorista Website Discord and post your report as a single message in the #report-issue channel. You will need to make a free Discord account.
Similar Armor Sets
These armors have a very similar shape to the Intimidator armor set.
Veda Force Expert's
Veda Aegis
More Jedi Knight Armors
Casual Combatant
Onderonian Guard
Je'daii Warrior (Hood Down)
Reinforced Chanlon
Reinforced Diatium
Jori Daragon's
Ossus Explorer
Sentinel Elite
Silent Warden's
Gav Daragon's
Vrook Lamar's
Exiled Knight's
More Jedi Knight Armors
More Gray Armors
Resilient Warden
Series 617 Cybernetic
Deep Cover Operative's
Core Miners
Ablative Laminoid
Exchange Corporate Shirt
Defiant Asylum MK-26 (Armormech) (Republic)
Rectified Brawler's
Lacqerous Battle
Juggernaut's Exalted
Anointed Demicot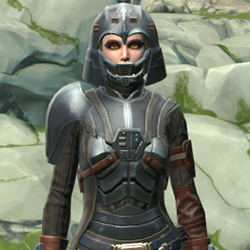 Distinguished Warden's
More Gray Armors
More Light Pants Armors
Vine-silk Force Expert's
Relentless Hunter's
Wandering Disciple's
Diligent Engineer's
Eternal Commander MK-3 Vindicator
Trimantium Onslaught
Relentless Insurgent's
Imperial Admiral's
Remnant Dreadguard Inquisitor
Defiant Asylum MK-16 (Armormech)
Red Blade's
Relaxed Jumpsuit
More Light Pants Armors
Outfit Database ID: 976 - Added: 0000-00-00 00:00:00 - Opposite: 0 - Identical: 0 - Similar: 976
Like this

guide?Pledge to support Swtorista videos, guides and lists!
✚ Support with Patreon
✚ Support with YouTube
✚ Support with Twitch
In return, get:
Discord Chat
50+ Lore Audio Readings
Ensure future of guides!