Have a suggestion or correction? A volunteer can help update the website! To report an issue, go to the Swtorista Website Discord and post your report as a single message in the #report-issue channel. You will need to make a free Discord account.
Similar Armor Sets
These armors have a very similar shape to the Energized Triumvirate armor set.
Battleworn Triumvirate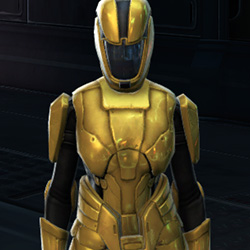 Opulent Triumvirate
Restored Triumvirate
Ventilated Triumvirate
More Kotor Armors
Malak's Shadow
Vrook Lamar's
Mission Vao's
Vintage Republic Military
Canderous Ordo's
Armor of Darth Revan
Visas Marr's
Saul Karath's
Carth Onasi's
Jedi Knight Revan
Juhani's
Kreia's
More Kotor Armors
More Gray Armors
Veda Force Expert's
Agile Sentinel's
Rectified Brawler's
Eternal Commander MK-3 Warleader
Fortified Lacqerous
Imperial Huttball Away Uniform
Synthleather Jacket (Imperial)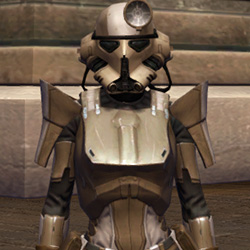 Tech Medic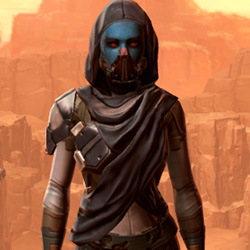 Sith Hermit's
Distinguished Warrior's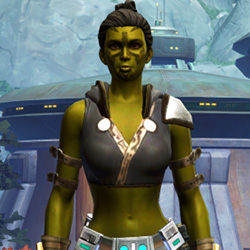 Aspiring Knight
Berserker
More Gray Armors
More Black Armors
Vandinite Onslaught
Darth Sion's
Fallen Defender's
Defiant Onslaught MK-26 (Synthweaving) (Imperial)
Charged Interrogator
Taskmaster's
Hypercloth Force Expert's
Remnant Resurrected Inquisitor
Sith Recluse
Ravager's
Armor of Darth Revan
Malak's Shadow
More Black Armors
More Light Pants Armors
Battlemaster Vindicator
Reinforced Battle
Onderonian Guard
Eternal Battler Targeter
War Hero Survivor (Rep)
Combat Engineer's
Dire Taskmaster's Robe
Energetic Champion
Ulgo Loyalist
Fortified Electrum
Resilient Polyplast
Powered Exoguard
More Light Pants Armors
Outfit Database ID: 890 - Added: 0000-00-00 00:00:00 - Opposite: 0 - Identical: 0 - Similar: 789
Like this

guide?Pledge to support Swtorista videos, guides and lists!
✚ Support with Patreon
✚ Support with YouTube
✚ Support with Twitch
In return, get:
Discord Chat
50+ Lore Audio Readings
Ensure future of guides!