Have a suggestion or correction? A volunteer can help update the website! To report an issue, go to the Swtorista Website Discord and post your report as a single message in the #report-issue channel. You will need to make a free Discord account.
Similar Armor Sets
These armors have a very similar shape to the Sith Hermit's armor set.
Silent Ghost's
More Sith Armors
Ablative Resinite
Nimble Master
Orbalisk
Shadowsilk Aegis
Savage Despot
Revanite Pursuer
Battlemaster Force-Mystic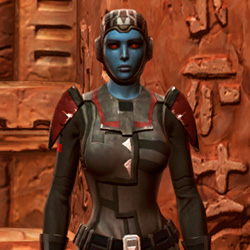 Blade Tyrant
Stimulated
Initiate
Reinforced Battle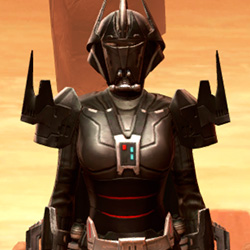 Charged Hypercloth Aegis
More Sith Armors
More Sith Warrior Armors
Enhanced Assailant's
Malgus Reborn
Dark Interrogator
Reinforced Battle
Traditional Demicot
Force Pilgrim
Darth Skotia's
Resilient Warden
Hunter Killer
Darth Sion's
Iokath Annihilator
Battlemaster Weaponmaster
More Sith Warrior Armors
More Sith Inquisitor Armors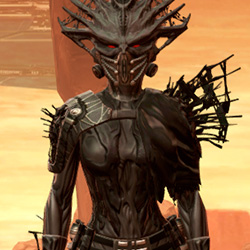 Charged Hypercloth Force Expert's
Inquisitor's Renowned
Soulbenders
Darth Sion's
War Hero Force-Mystic (Rated)
Phantom
Calculated Mercenary's
Remnant Yavin Warrior
Sovereign Executioner
Shadowsilk Aegis
Sorcerer
Empowered Restorer
More Sith Inquisitor Armors
More Gray Armors
Scout
Hooligan
Core Miners
Defiant Asylum MK-26 (Armormech) (Republic)
Duststorm Survivor's
Deep Cover Operative's
Shae Vizla's
Frenzied Warrior's
Headhunter
Intimidator
Sorcerer Adept
Fortified Lacqerous
More Gray Armors
Outfit Database ID: 1156 - Added: 0000-00-00 00:00:00 - Opposite: 0 - Identical: 0 - Similar: 1156
Like this

guide?Pledge to support Swtorista videos, guides and lists!
✚ Support with Patreon
✚ Support with YouTube
✚ Support with Twitch
In return, get:
Discord Chat
50+ Lore Audio Readings
Ensure future of guides!