Have a suggestion or correction? A volunteer can help update the website! To report an issue, go to the Swtorista Website Discord and post your report as a single message in the #report-issue channel. You will need to make a free Discord account.
Similar Armor Sets
These armors have a very similar shape to the Conservator's armor set.
Classic Conservator's
More Jedi Knight Armors
Sentinel
Lord of Pain
Defiant Asylum MK-26 (Synthweaving) (Imperial)
Eternal Brawler Pummeler's
Exarch Asylum MK-26 (Armormech)
Force Champion
Energetic Champion
Kreia's
Remnant Dreadguard Knight
Battlemaster War Leader
Jedi Strategist's
Nimble Brawler's
More Jedi Knight Armors
More Plated Leg Armor Armors
War Hero Eliminator
Contract Hunter (alternate)
War Hero Combat Medic (Rated)
Ardent Warden
Unbreakable Veteran's
Organa Loyalist's
Ruthless Commander
Cassus Fett's
Stationary Grit
War Hero Combat Tech
Diatium Onslaught
Energized Manhunter
More Plated Leg Armor Armors
More Brown Armors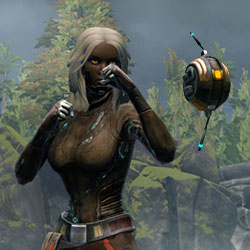 Battleworn Engineer's
Primeval Stalker's
Force Disciple's
Light Devotee
Dust Viper Bandit's
Ablative Plasteel
Citadel Duelist
Defiant Mender MK-16 (Synthweaving)
Carth Onasi's
Citadel Duelist
Outlander Fixer's
Eternal Commander MK-15 Survivor
More Brown Armors
Outfit Database ID: 827 - Added: 0000-00-00 00:00:00 - Opposite: 0 - Identical: 1813 - Similar: 827
Like this

guide?Pledge to support Swtorista videos, guides and lists!
✚ Support with Patreon
✚ Support with YouTube
✚ Support with Twitch
In return, get:
Discord Chat
50+ Lore Audio Readings
Ensure future of guides!