Similar Armor Sets
These armors have a very similar shape to the Conservator's armor set.
Classic Conservator's
More Jedi Knight Armors
Jori Daragon's
Eternal Brawler Pummeler's
The Last Handmaiden's
Gifted Shadow's
Energetic Champion
Dashing Hero's
Temple Guardian
Patient Defender (no hood)
Masterwork Ancient Force-Master
Exiled Master's
Resolute Guardian
Thexan's
More Jedi Knight Armors
More Plated Leg Armor Armors
War Hero Combat Tech (Rated)
War Hero Vindicator
Republic Huttball Home Uniform
Righteous Enforcer
Unburdened Champion
Energized Manhunter
Frontline Defender
War Hero Combat Medic (Rated)
Remnant Dreadguard Knight
Trimantium Asylum
Imperial Huttball Away Uniform
Fieldtech Gunner
More Plated Leg Armor Armors
More Brown Armors
Canderous Ordo's
Eternal Conqueror Pummeler
Battlemaster Field Tech
Nefarious Bandit's
Vine-silk Aegis
Diligent Engineer's
Jedi Strategist's
Rapid Response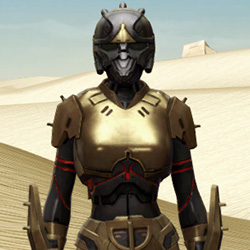 Eidolon's
Ablative Laminoid
Gifted Wanderer's
Exiled Knight's
More Brown Armors
Outfit Database ID: 827 - Added: 0000-00-00 00:00:00 - Opposite: 0 - Identical: 0 - Similar: 827
Like this

guide?Pledge to support Swtorista videos, guides and lists!
✚ Support with Patreon
✚ Support with YouTube
✚ Support with Twitch
In return, get:
Discord
50+ Lore Readings
Ensure future of guides!