Have a suggestion or correction? A volunteer can help update the website! To report an issue, go to the Swtorista Website Discord and post your report as a single message in the #report-issue channel. You will need to make a free Discord account.
Similar Armor Sets
These armors have a very similar shape to the Voss Mystic armor set.
Voss Dignitary
Voss Ambassador
Traditional Brocart
Lashaa Force Expert's
Social Armors
These armors are obtained in similar ways.
Hailstorm Brotherhood
Slave Girl
Formal
Prisoner
Death Claw
Elegant
Sand People
CorSec
Ulgo Noble
Balmorran Resistance
Hutt Cartel
More Jedi Consular Armors
Battlemaster Stalker
Temple Guardian
Vrook Lamar's
Remnant Dreadguard Consular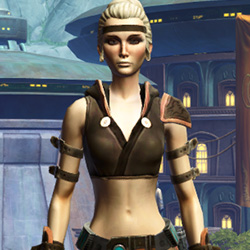 Shadowsilk Aegis
Remnant Underworld Knight
Nanosilk Aegis
Force Magister
Force Apprentice's
Relnex's
Charged Hypercloth Aegis
Remnant Dreadguard Knight
More Jedi Consular Armors
More White Armors
Eternal Commander MK-15 Weaponmaster
Tempered Laminoid
Gifted Shadow's
Squadron Ace's
Peacekeeper Elite
Eternal Commander MK-15 Field tech
Overwatch Captain's
Commando Elite
Tattered Mystic's
Eternal Brawler Force-Healer's
MA-52 Med-Tech Chestplate
Genteel Clothing Set
More White Armors
Outfit Database ID: 27 - Added: 0000-00-00 00:00:00 - Opposite: 0 - Identical: 0 - Similar: 1383
Like this

guide?Pledge to support Swtorista videos, guides and lists!
✚ Support with Patreon
✚ Support with YouTube
✚ Support with Twitch
In return, get:
Discord Chat
50+ Lore Audio Readings
Ensure future of guides!