Have a suggestion or correction? A volunteer can help update the website! To report an issue, go to the Swtorista Website Discord and post your report as a single message in the #report-issue channel. You will need to make a free Discord account.
Similar Armor Sets
These armors have a very similar shape to the Tattered Ritualist's Cowled armor set.
Tattered Mystic's
Tattered Mystic's Cowled
Tattered Ritualist's
Tribal Hermit
Battlemaster Force-Master
Battlemaster Survivor
Flashpoints Armors
These armors are obtained in similar ways.
Shasa Adherent's
Order of Zildrog
Ascendancy Soldier
More Jedi Consular Armors
Consular's Renowned
Ablative Laminoid
Citadel Force-healer
Empowered Restorer
Nanosilk Force Expert's
Dashing Hero's
Jedi Survivalist's
Anointed Zeyd-Cloth
Reclusive Master's
Remnant Resurrected Consular
Rapid Response
Armored Diplomat
More Jedi Consular Armors
More Black Armors
Diabolist
Saber Marshal
Bold Hellion's
Remnant Resurrected Bounty Hunter
Covert Pilot Suit
Defiant Asylum MK-26 (Synthweaving) (Republic)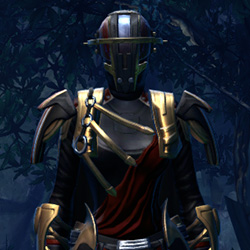 Revanite Avenger
Sith Recluse
Revan Reborn
Blue Scalene
Defiant Onslaught MK-26 (Synthweaving) (Imperial)
Ghostly Magus
More Black Armors
Outfit Database ID: 1574 - Added: 2018-10-29 11:22:26 - Opposite: 0 - Identical: 0 - Similar: 1571
Like this

guide?Pledge to support Swtorista videos, guides and lists!
✚ Support with Patreon
✚ Support with YouTube
✚ Support with Twitch
In return, get:
Discord Chat
50+ Lore Audio Readings
Ensure future of guides!