Have a suggestion or correction? A volunteer can help update the website! To report an issue, go to the Swtorista Website Discord and post your report as a single message in the #report-issue channel. You will need to make a free Discord account.
Similar Armor Sets
These armors have a very similar shape to the Balmorran Arms Corporate Shirt armor set.
Czerka Corporate Shirt
Exchange Corporate Shirt
Hutt Cartel Corporate Shirt
More Corporate Armors
Horizon's Razor
More Yellow Armors
Scrublander's
Outlander Guerrilla's
Classic Preceptor's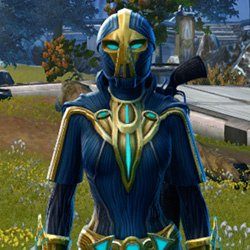 Righteous Harbinger
War Hero War Leader (Rated)
Gold Scalene
Galvanized Infantry
Ceremonial Guard
Volatile Shock Trooper
War Hero Vindicator (Rated)
Zakuul Knight
Series 808 Cybernetic Armor
More Yellow Armors
More White Armors
Relaxed Uniform
Stalker's
Lashaa Aegis
Forward Recon
Enigmatic Operative's
Eternal Commander MK-15 Stalker
Nomad
Jarael's
Ruthless Scion's
Relaxed Uniform
Resort Swimwear
Recon Trooper
More White Armors
Outfit Database ID: 781 - Added: 0000-00-00 00:00:00 - Opposite: 0 - Identical: 0 - Similar: 901
Like this

guide?Pledge to support Swtorista videos, guides and lists!
✚ Support with Patreon
✚ Support with YouTube
✚ Support with Twitch
In return, get:
Discord Chat
50+ Lore Audio Readings
Ensure future of guides!